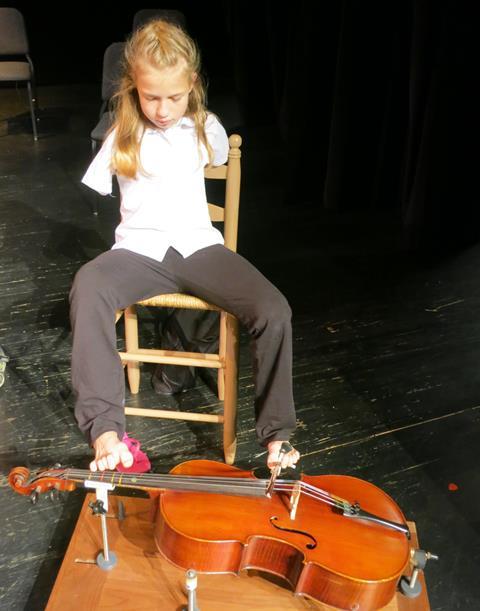 A new music camp for amputee and limb-different children who want to learn stringed instruments or piano launches next week in Cincinnati, US.
The Cincinnati Adaptive Music Camp will provide students with any adaptive devices, such as special fittings or instrument platforms, that they need to be able to play. Private lessons, group classes, and music history and musicianship classes are also being offered at the camp, which takes place at the College of Mount St Joseph from 5 to 10 August.
Jennifer Petry, a registered Suzuki teacher who trained at the University of Cincinnati College-Conservatory of Music, is the strings specialist at the camp. She taught one of her adopted daughters, who was born without arms, to play the cello with her feet (pictured). She was inspired to start a camp after finding that other limb-different children she had met who had started playing instruments spent a lot of their lesson time dealing with their adaptation, and not with their instrument.
She said: 'Often, these students have had a hard time finding a teacher in the first place because many professionals find the idea of teaching differently intimidating. Sometimes the only person willing to teach them was someone who did not necessarily play the instrument they wanted to learn. I was frustrated with the situation, because it seemed unnecessary to me.'
The camp aims to send students home with their adaptive devices all set up, together with videos and lesson plans that they can show to a prospective teacher to prove that they are ready for lessons. Petry said that she and the other teachers at the camp will serve as consulting teachers for the students going forward, providing support for any issues that come up. 'Each child is so different; there is no set pattern for working with them. It takes flexibility and out-of-the-box thinking.'
The new camp has attracted students from California and Pennsylvania, as well as Ohio, but because of the time-intensive nature of getting students set up to play in a week, just seven beginners will be attending. However, Petry said that there are plans to expand the camp next year to include a programme for returning students and those with more experience who are ready to join a school orchestra and need further training or help with any adjustments to their adaptive set-up.
Subscribe to The Strad or download our digital edition as part of a 30-day free trial.
Photo courtesy Jennifer Petry