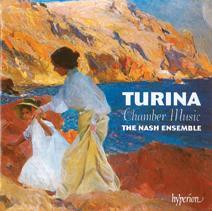 The Strad Issue: January 2012
Description: Chamber music that successfully combines French and Spanish styles
Musicians: Nash Ensemble
Composer: Turina
Seville-born Joaquín Turina travelled to Paris in 1905 to study at the Schola Cantorum, where he encountered both the clean Classicism of d'Indy and Franck and the forward-looking impressionism of Debussy. His music absorbs the influences of both, combining them with the rhythms and melodies of his native Andalusia, and this generous selection of his chamber music by the Nash Ensemble provides a near-ideal balance of Spanish heat and Gallic nonchalance.
At times, things might seem rather restrained and good-natured. In the Second Violin Sonata, for example, violinist Marianne Thorsen is clear and precise, with beautifully sculpted phrasing, but she soon lets rip with broad G-string melodies dripping in luscious vibrato. For the radiant Piano Quartet she's joined by violist Lawrence Power and cellist Paul Watkins, and although some of their breathy phrases seem about to disappear into thin air, they swell magnificently in the first movement's remarkable three-way unisons.
Power delivers an astonishingly intense reading of the Escena andaluza, almost seeming to sing his rhapsodic lines, and Thorsen and Watkins are appropriately volatile in the Piano Trio. Some forceful playing from pianist Ian Brown, however, occasionally threatens to drown out his colleagues – not helped by Turina's keyboard parts that often descend to the depths of the instrument. Recorded sound is warm and faithful, but set at a strangely low level – be prepared to turn your volume up high.



David Kettle