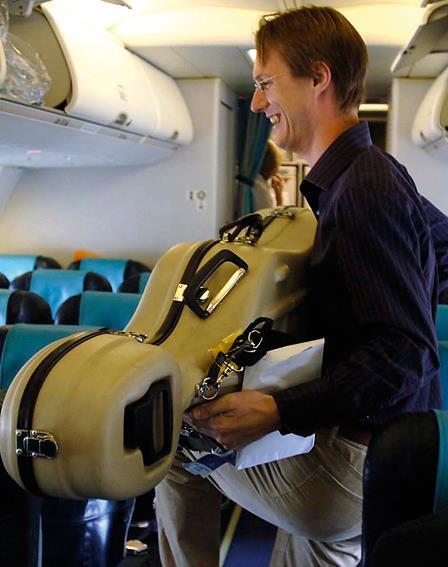 Before you bookMake sure you check the airline's policy on musical instruments before you fly. You might have used the airline previously or received a recommendation from a fellow musician, but the airline may have recently changed its policy. Steve Gelfand, director of touring and travel at the AFM, says: 'We used to provide our members with a chart of different airlines' rules of carriage, but in the last year we've introduced live links to the relevant pages on airlines' websites because instrument policies have been changing so frequently.'
Policies have changed not only in the wake of terrorist scares, but also as an effect of the economic downturn: some regional airlines have introduced smaller planes, meaning overhead bins are smaller; other airlines have raised their charges for oversize or excess baggage. So it's worth going through the small print and checking the size and weight limits for cabin baggage if you plan on buying a seat for a cello, or the oversize baggage charges if you need to check a bass into the hold.
Some carriers have different rules on how many items you can take into the cabin depending on the route you're flying. Maximum weight limits for oversize baggage may also vary depending on the territory you're flying from, so don't make the mistake of assuming that the cost of transporting a bass on your international return flight will be the same as your outbound flight.
Booking the flight
Booking an extra seat for an instrument can sometimes be done easily online, but with some airlines it is a more complex process. If you're booking a seat for a cello, you may need to phone a booking agent: make sure they know the airline's policy on cellos and that the aircraft has the appropriate bulkhead window seat where required. If you can't have your seats assigned when you book, ask the agent to note on your booking that the extra seat is for a cello. When booking cellos and basses on multiple international flights, it may be helpful to use a specialist travel agent who is used to dealing with musicians and instruments and is more familiar with policy variations.
Checking in and boarding
If check-in staff are unfamiliar with an airline's instrument policy, or challenge your interpretation of it, be prepared to persuade them of your case. Have a copy of the policy to hand. Emphasise your instrument's fragility and value, both personal and financial. Madeleine Crouch of the International Society of Bassists recommends taking a contract of engagement or a personalised letter of introduction: 'If you're travelling for a concert, a festival or a competition, ask for a letter that stresses how important it is that you get there, how special you are to that event, something that says, "We need your help letting this person travel with their instrument.† That can sometimes make the difference in a sticky situation – it's the kind of request that's hard to say no to.'
Check in early if you have a cello and you haven't had your seats assigned: you will have a better chance of getting a bulkhead seat. If you're taking an instrument into the cabin, try to be among the first passengers to board the plane: on a busy flight, you don't want to be scrabbling for the last space in an overhead bin, or trying to manoeuvre your cello past lots of other passengers. With budget airlines, check in as early as possible to be sure you're in the first boarding group, or check in online and pay the premium for priority boarding.
A mix of confidence and not drawing attention to their instrument can help some players progress smoothly through check-in and boarding. Cellists can hardly hide their cellos, but they can make boarding smoother by immediately showing that they have tickets for two seats and asking for a seatbelt extender – make things simple for the cabin crew by giving them the impression that you've done it all before.
At your destination
Inspect any instrument you had to check as hold baggage as soon as you retrieve it. If there is any damage, report it to the airline immediately. Don't wait until you get home. If you fly with a bass often, you may want to invest in a custom-made, extra-strong flight case, to help lessen the risk of damage from baggage loading and unloading. Such cases are expensive, but you might be able to rent one for a short tour.
Alternative strategies
While some bassists have turned to travel basses, others, such as jazz bassist Rufus Reid, have resorted to having their full-size instruments converted into removable-neck basses in order to bring the case size under oversize baggage limits. If flying with your instrument is too costly or you don't want to risk damage to your instrument, then you could consider renting one at your destination, through a site such as Rentabass.com. Another option is to ship your bass with a specialist air-freight company, but be prepared to shop around to get a good deal.
Conclusion
Bassists and cellists may face the most restrictions when flying with their instruments, but violinists and violists increasingly need to shop around and choose their airline carefully if they want a good-value, trouble-free experience. Until there are consistent policies that are adhered to by every member of an airline's staff, flying with an instrument will still be a chore and a challenge for some. But all of us can benefit from being well organised and well informed.
Essential Advice for Air Travellers
- Check the instrument policy and any baggage charges before you book
- Allow extra time when checking in with a cello
- Board early to get first access to overhead bins or to make finding seats with your cello easier
- Use a specialist travel agent for booking large instruments on multiple international flights and connections
- Be ready to show a copy of the instrument policy and an official letter of introduction or contract of engagement
- Inspect checked instruments for any damage before you leave the airport
Read: Airline workers broke my cello, says American musician
This article was first published in The Strad's July 2010 issue
Photo: Alberto Venzago