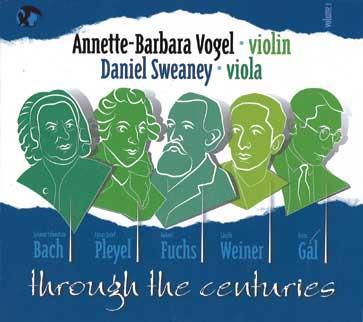 The Strad Issue: January 2014
Description: An auspicious start to an ambitious series exploring violin–viola duets
Musicians: Annette-Barbara Vogel (violin) Daniel Sweaney (viola)
Composer: L. Weiner, Fuchs, Gál, Bach, Pleyel
Released as 'Vol.1', this compilation of duos for violin and viola promises to be nothing if not thorough in the coverage of its chosen repertoire. The CD jumps back and forth 'through the centuries', starting with the haunting Duo by László Weiner, who died in 1944 at the age of 28, a victim of the Holocaust. Its language unsurprisingly recalls that of Weiner's teacher, Kodály, in its use of 'gypsy' scales and fourth-based harmonies. The Divertimento by Hans Gál, a fellow Hungarian who was lucky enough to escape to Britain, is of a neo-Classical hue, its first movement written in an academically unimpeachable sonata form. Both compositions are given authoritative reading by these tried-and-true partners, who phrase and breathe as one.
Bach's two-part Inventions are played in Ferdinand David's arrangement but without its unauthentic markings and added slurs, both players adopting a Glenn Gould-style spiccato that suits the music rather better. Ignaz Pleyel's Duo has always been sightreading session fodder and it's good to hear it properly rehearsed and wittily played.
When listening to Robert Fuchs's Duets I was reminded of the compliment Brahms paid to his younger colleague: 'Everything is so fine and skilful, so charmingly invented, that one is always pleased.' As in Pleyel's case, this is not the most profound music ever penned, but it's decidedly enchanting, especially when performed with such discriminating musicality, and given such truthful recorded sound.


Carlos María Solare