The maker talks to Chloe Cutts about the impact of his Strad 3D project and his own journey as a luthier and researcher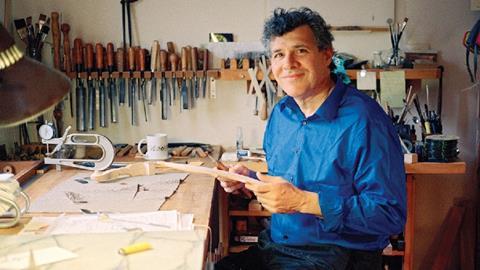 The following article is taken from a larger interview feature on Sam Zygmuntowicz, published in The Strad's January 2017 issue, out now – download on desktop computer or through The Strad App.
Sam Zygmuntowicz spent five years at Jacques Francais Rare Violins Inc., in the shop of René Morel, whom he credits as his main teacher and mentor. The shop was an incubator for young makers, including a number of Salt Lake-trained Americans. The meeting of old-world European training and the young Americans created some conflicts of perspective, as Zygmuntowicz recalls: 'René Morel came from a school of French makers who were incredibly accomplished. The instruments they made in Mirecourt were hand-worked, but they had to make two or three violin bodies per week, with the scrolls and varnishing done elsewhere. The finished instruments were sold in Paris or shipped abroad. It wasn't glamorous, but the technical training was excellent. The beauty and strength of traditional training is the tool handling, and many of René's new assistants hadn't started out in the manual trades.'
Of particular interest to Zygmuntowicz was Morel's work with top musicians. 'René was a keen observer of the past masters, but he developed his own philosophy about how sound works, and his own language about sound: he knew what he wanted to hear and he had a coherent view about how the violin functions.' Morel's adjustments showed how profoundly modifications can alter and improve any instrument. 'He also had a guiding principle: follow what the musician wants.'
Like Morel, Zygmuntowicz developed a pragmatic view of the past: 'I think tradition holds a collective wisdom, but its value lies in how we analyse it to extract the meaningful parts and repurpose them,' he says. 'As makers you're formed by what you've inherited, but at what point does that knowledge limit your ability to create your own reality? I'm not belittling the value of the past, but any student who respects their teacher holds a secret ambition to be as good as or surpass them.'
Read: 'I shy away from copying models that are too individual,' says violin maker Sam Zygmuntowicz
To read the full article on Sam Zygmuntowicz, download The Strad's January 2017 issue on desktop computer or through The Strad App.
Photo: Sarah Shatz