German violinist Christian Tetzlaff finds new depths of discovery in Bach's Solo Sonatas and Partitas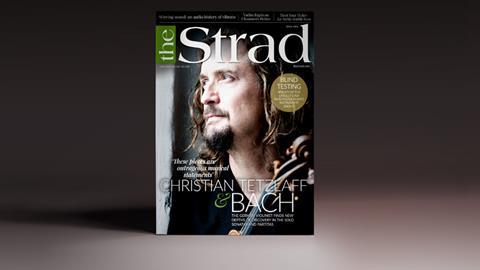 The Strad June 2017 issue is on sale now, in which German violinist Christian Tetzlaff speaks to Andrew Mellor about recording Bach's Sonatas and Partitas for the third time and giving more direction to the same ideas.
Elsewhere in the issue, Joseph Curtin reports from the largest blind testing investigation of its kind, in which six Old Italian violins were pitted against six new instruments; we look back over the life and legacy of French cellist André Navarra, whose recorded legacy has been somewhat overlooked in recent years; double bassist Stein Paulsen and luthier Stefan Krattenmacher describe how a chance encounter led to the creation of an instrument capable of withstanding Arctic conditions; and Tully Potter surveys the recordings of the last century to discover why vibrato has been such a divisive topic.
This issue also sees the introduction of a new section: Making Matters, in which we look at any and all aspects of the violin making process, beginning with a discussion of the merits of slab-cut vs. quarter-sawn wood. In Masterclass, violinist Vadim Repin marks up the sheet music for Chausson's Poème op.25; In Focus gives a close-up view of a self-rehairing bow by Nicolas Maire; luthier Feng Jiang shares tips on making joints in Trade Secrets; Dortmund luthier Jonathan Bley invites us into his workshop in My Space; violist Hartmut Rohde gives advice on left-hand balance for chords and double stops in Technique; violist Tabea Zimmermann shares memories and experiences in Life Lessons; and violinist David Garrett talks about his love for the Violin Sonata of César Franck in Sentimental Work. We also bring you news of the latest competitions, products and auctions, and comprehensive reviews of concerts, CDs and books.
The digital magazine is on sale now. The print edition is on sale from 24 May 2017.