UK period ensemble the Chiaroscuro Quartet discusses Haydn's 'Sun' quartets and the dawn of the string quartet genre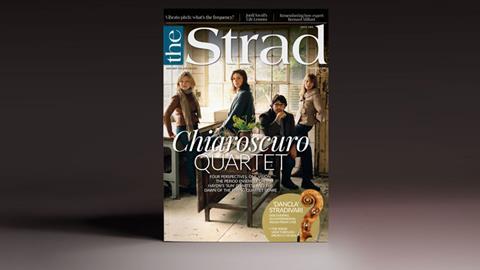 The Strad July 2017 issue is on sale now, in which UK period ensemble the Chiaroscuro Quartet discusses the evergreen appeal of Haydn's op.20 'Sun' quartets and the dawn of the string quartet genre in conversation with Helen Wallace.
Elsewhere in the issue, Alberto Giordano examines the 1708 'Dancla' Stradivari, while Rudolf Hopfner gives an inside view of the 'golden period' instrument through micro-CT scans; friends and colleagues offer their tributes to world-renowned French bow maker, dealer, author and expert Bernard Millant, who died earlier this year; and new research by Rebecca MacLeod and John Geringer questions the accepted views on vibrato pitch centre.
In our regular sections: Masterclass features violist Paul Neubauer, who marks up the sheet music for the second and third movements of Schubert's Arpeggione Sonata; In Focus gives a close-up view of a 1920 violin by Amedeo Simonazzi; Jan Š pidlen and Václav Pikrt share their method for making plaster casts for restorations in Trade Secrets; Chinese-born, US-based luthier Scott Shu-Kun Cao invites us into his workshop in My Space; John Dilworth discusses the vexed question of cut-down instruments in Making Matters; cellist Paul Katz gives tips on creating your ideal vibrato sound in Technique; early music pioneer Jordi Savall shares memories and experiences in Life Lessons; and violist Maxim Rysanov talks about his relationship with a Schubert-inspired piece by Desyatnikov in Sentimental Work.
We also bring you news of the latest competitions, products and auctions, and comprehensive reviews of concerts, CDs and books.
The digital magazine and print edition are on sale now.