Leonidas Kavakos speaks about his ever-deepening relationship with the Sibelius Violin Concerto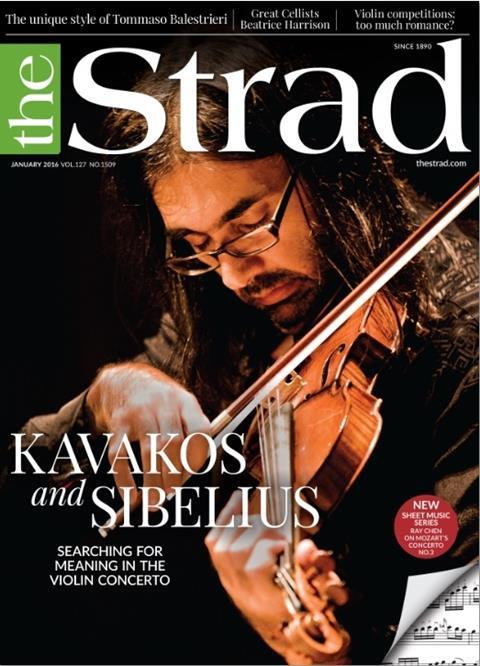 The Strad's January 2016 issue is on sale now, in which Leonidas Kavakos speaks to Andrew Mellor about searching for meaning in the Sibelius Violin Concerto - 25 years after he made his pioneering recording of the work.
Elsewhere in the issue, Andrew Barnett examines Sibelius's substantial revisions to his Violin Concerto after its disastrous premiere; David Milsom investigates the life of Beatrice Harrison, muse of Delius and Elgar and one of the first female cellists in Britain to make a name for herself; Stefano Termanini tells the colourful story of Paganini's only pupil, Camillo Sivori, and Alberto Giordano examines some of the treasures from his instrument collection; and in the second of two articles on Tommaso Balestrieri, Philip Kass and Andrea Zanrè examine the Mantua maker's workmanship, focusing on a particular violin from 1777.
We also launch a new format for our Masterclass section, in which top soloists annotate sheet music with fingerings, bowings and dynamics, and provide guidance on interpretation and practice. In the first of the series, Ray Chen gives his thoughts on the first movement of Mozart's Third Violin Concerto.
In our regular sections: In Focus gives a close-up view of the 1682 'Spagnoletti' violin by Nicolò Amati; Paul Belin shares his method for making lake pigments for varnish in Trade Secrets; Dutch luthier Bas Maas invites us into his workshop in My Space; viola professor Helen Callus gives advice on building a strong, consistent left hand-frame in Technique; UK cellist Josephine Knight takes us through her Practice Diary; three tutors give advice on ensuring a three-year-old beginner cellist doesn't fall into bad habits in Ask the Experts; and violinist and teacher Miriam Fried talks about her relationship with Bach in Sentimental Work.
We also bring you news of the latest competitions, products and auctions, and comprehensive reviews of concerts, CDs and books.
The digital magazine is on sale now. The print edition is on sale from Tuesday 22 December 2015.