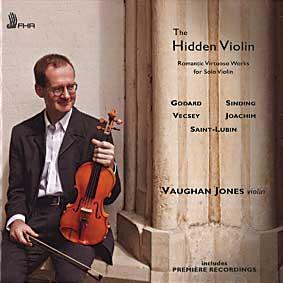 The Strad Issue: January 2014
Description: Repertoire that reinforces the lure of Bach on solo violin writing
Musicians: Vaughan Jones (violin)
Composer: Godard, Sinding, Vecsey, Joachim, Saint-Lubin
The majority of multi-movement works for solo violin are predominantly serious in tone and appear musically tongue-tied in deference to Bach's towering sonata and partita exemplars. Even Benjamin Godard, whose two solo sonatas are recorded here for the first time (and whose music, as witness Chloë Hanslip's fine Naxos recording of his Second Concerto, reviewed in October 2008, is firmly rooted in the Romantic tradition), becomes completely immersed in Bach's formal dance idiom, with examples of a gavotte, sarabande, bourrée, menuet and rigaudon along the way. Franz von Vecsey is represented by a C minor Prelude and Fugue, and Christian Sinding by a D minor Chaconne, no less, from his op.123 Suite. Ignoring Joseph Joachim's brief transcription of a Scottish folk melody, the only piece here that breaks entirely free of the Master's spell is Léon de Saint-Lubin's Fantaisie sur un thème de Lucia di Lammermoor, a gentle showstopper in the Paganini virtuoso tradition.
A gifted pupil of Kató Havas, Vaughan Jones plays all these pieces with unfailing technical command and interpretative clear-sightedness. His full-toned 2011 MartinuMcClean violin proves ideal in this repertoire, and although there are no masterpieces awaiting rediscovery here, it is fascinating to hear the profound extent to which these player–composers were inspired by and became enmeshed in Bach's inimitable pseudo-contrapuntal sound world.
JULIAN HAYLOCK