After more than 30 recordings and many international tours, the Emerson Quartet players speak to Jessica Duchen about marking their 40th anniversary year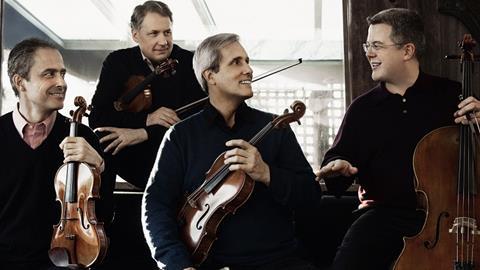 The following article is published as part of a larger feature celebrating the Emerson Quartet's 40th anniversary in The Strad's January 2017 issue, out now – download on desktop computer or through The Strad App.
Philip Setzer (Emerson violinist): People often ask me whether there's a future for string quartets when the audiences are mostly grey-haired. We could play in a nightclub setting to appeal to 20-year-olds, but I don't think we need to worry about it quite so much; I wonder whether, as people get older, we begin to value deeper experiences more, perhaps because you suddenly begin to wonder how long you'll be around to enjoy them. Then you want to experience them while you can.
Eugene Drucker (Emerson violinist): Political developments aside, I'm optimistic: there are plenty of fine young string quartets on the scene. We've taken pride in the groups we've mentored and we hope there'll be enough interest among audiences in the next few generations in the art of quartet playing. We know the players are there: more and more talented young musicians are ready to embrace the challenges, fulfilments and sometimes sacrifices that have to be made in order to have a life as a string quartet.
Philip Setzer: There's always an element of luck to the longevity of an ensemble. As with any relationship, you don't know how people are going to change, or how it's going to wear over time. Having success helps, and that's one of the difficult things for a group starting out. The worst part was the first several years because we weren't having success – it was tough financially and everyone was doing other things to pay the rent. To be honest, I think we argued more in those first few years than in the next 35. But it also helped that we had the same tastes, influences and musical gods. And probably the most important thing of all is that each of us has a good sense of humour. If you can't laugh at each other, and at yourself, you're probably not going to last very long.
To read the full Emerson Quartet article, download The Strad's January 2017 issue on desktop computer or through The Strad App.
Photo: Lisa Marie Mazzucco