Peter Quantrill attends the quartet's final London concert at Queen Elizabeth Hall on 8 November 2022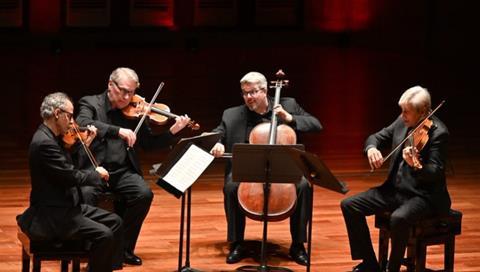 Bittersweet nostalgia hung in the air like the autumn chill at the Emerson Quartet's final London concert. The last three quartets of Shostakovich are no one's idea of a farewell party, but perhaps it was time to say goodbye. The core of the Emerson sound still glows with the intensity of a steel foundry but the blaze itself is reduced from times past, stoked in the main by Lawrence Dutton's viola and Paul Watkins's cello.
While Philip Setzer led the 13th, it was Dutton's tinder-dry, sinewy phrasing that set the tone for this quartet dedicated by the composer to the violist Vadim Borisovsky. There was, though, already an impression of undue haste in music which alternately battles and comes to terms with mortality, an impression underlined by the thin-lipped apology for what should be a lacerating final crescendo.
Led by Eugene Drucker, the less etiolated textures of the 14th were unsparingly exposed with the Emerson's hallmark precision, while the frailty of Drucker's own tone now came into focus. A Setzer-led 15th has always been a gruelling experience, not so patient as other ensembles in letting the hospital-bed pallor of Shostakovich's harmony work its uncanny magic. Now more than ever, the long opening Elegy flew by in an account which got off to an uneasy start and turned the composer's metronome marks up by several notches. While Setzer tore into the angular solo recitatives with undimmed ferocity, the gaunt contrasts and mysteries of the Epilogue remained untapped. The audience clapped and they stood, perhaps more in gratitude for the past decades of glory. So long, and thanks for the memories.
PETER QUANTRILL