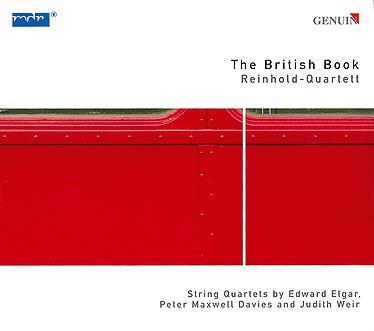 The Strad Issue: January 2006
Musicians: Reinhold Quartet
Composer: Weir, Elgar, Maxwell Davies
It is tempting to wonder whether a British ensemble would package together the works of, say, Henze, Stockhausen and Rihm and call it The German Book. There does seem to be a whiff of the exotic in this CD by players from the Gewandhaus Orchestra in Leipzig. Their performance of Elgar's Quartet does all the right things: dynamics, tempo and expressive markings are scrupulously observed; the playing is admirable in its attention to detail, its ensemble and balance, and its technical accomplishment. Yet somehow it sounds as if the score has served as a kind of manual: do everything right and the Elgar Quartet will emerge at the end. But it doesn't quite. This music has panache to it; its poignancies are balanced by red-blooded energy, and it can go with a swing. This performance, for all its good qualities – and there are many – treads carefully, and too often sits on the beat when it should be surging forward.
The quartets that flank the Elgar have been less often recorded, and these sensitive accounts are welcome. The Reinhold Quartet plays Judith Weir's meditative 1990 Quartet, each of whose movements is based on a song, with a nice mixture of lyricism and understatement. Peter Maxwell Davies's two quartets, short but rich in character and variety of texture, receive fine performances. The recorded sound is forward and warm.
TIM HOMFRAY