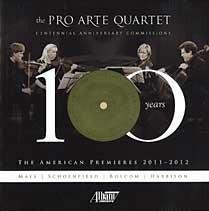 The Strad Issue: January 2014
Description: A string quartet enters its second century celebrating new repertoire
Musicians: Pro Arte Quartet, Brian Hsu, Christopher Taylor (piano)
Composer: Mays, Schoenfield, Bolcom, Harbison
After a century of existence featuring six different leaders, eight second violinists, four violists (German Prevost and Richard Blum served for 35 and 34 years respectively) and ten cellists, the Pro Arte Quartet's current 19-year line-up of David Perry, Suzanne Beia, Sally Chisholm and Parry Karp is still going strong. Over the century of its existence this legendary ensemble has commissioned and premiered more than a hundred new works, so it was especially appropriate for the members to invite six leading composers to write a major new piece to mark the group's centenary. Four of these (Benoît Mernier's and Pierre Jalbert's commissions are scheduled to follow) are presented here in resplendently wide-ranging, full-bodied sound that fully captures the Pro Arte's vibrant authority and knife-edge precision.
All four of these works are hugely demanding, both technically and idiomatically: the captivating 'flutterings' of Walter Mays's Second Quartet 'Dreaming Butterfly' provide continuity in a five-section structure of coruscating sonic resourcefulness, while the intoxicating stylistic brew of Paul Schoenfield's Three Rhapsodies for piano quintet (with pianist Brian Hsu) is imbibed by the Pro Arte players with gleeful abandon.
Christopher Taylor joins the main ensemble for William Bolcom's Second Piano Quintet, which takes the Brahmsian exemplar as a launchpad for a majestic, rhythmically invigorating masterwork that continually grips the imagination. John Harbison's glorious Fifth String Quartet in ten sections is the most overtly lyrical and idiomatically written of the four works, providing a perfect point of entry to an outstanding programme, stunningly played, which confirms the string quartet is still alive and well in the 21st century.



JULIAN HAYLOCK