Qian Zhou, jury chair of the Singapore International Violin Competition, gives some tips on what it takes to win a share of its $110,000 prize money – plus a bonus tip on the application process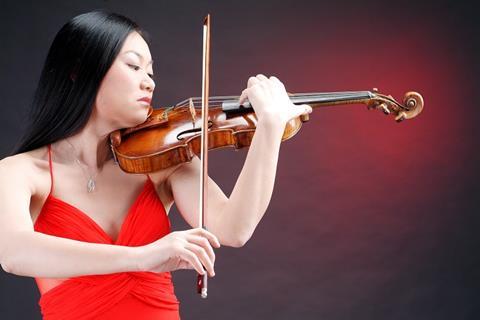 The Singapore International Violin Competition is a major platform for young artists, offering a $50,000 cash prize for the winner and the loan of a fine violin from the Rin Collection for three years.
The qualities that we are searching for in a candidate are:
Musicianship: The capacity to draw together stylistic awareness, cultural context and musical instinct in response to the repertoire so that every moment of the performance is full of meaning, both in itself and in how it energises the narrative through time. One should sense that the player is deeply engaged with the work's musical language, history and its performance tradition.
Technical assurance: The capacity to project the player's ideas, via the instrument, freely and with apparent spontaneity, as if instinctively. Beyond talent (which is essential), this can actually only be achieved through hard work and intelligent application of time, effort and imagination.
Charisma: The capacity to catch a listener's attention and to touch her or his heart with the joy and passion of music. Here perhaps talent comes to the fore as this is so intrinsically linked to identity, to the desire to communicate and to one's innate passion for music.
Sincerity: The capacity to project one's true identity in connection with the music being performed so that it feels personal, honest and compelling. Although one's insight into the music is ultimately the consequence of so many inputs, in the moment of performance the connection between player, music and moment should feel totally owned and personally truthful.
As for creating a stand-out application, unlike live performances, where stage presence and charisma can influence the audience's response, a recording becomes a true reflection of one's musicality and technique; the beautiful and meaningful sound, as well as a profound technique, becomes crucial.
My advice is to take the application process seriously. Prepare well, and use a professional recording studio. This in itself is a useful experience, to spend time familiarising oneself with the recording process.
Fact file
Applications for the triennial Singapore International Violin Competition 2018 close on 30 September. More details on the competition website
Along with chair Qian Zhou, the jury consists of Mauricio Fuks, Kam Ning, Kim Nam Yun and Boris Kuschnir
Over $110,000 in prizes will be awarded, with the top six winners eligible for a three-year loan of a violin from the Rin Collection
First prize: $50,000, second prize: $25,000, third prize: $15,000, fourth prize: $6,000, fifth prize: $5,000, sixth prize: $4,000
Qian Zhou is the head of strings at Singapore's Yong Siew Toh Conservatory of Music. She came to international prominence by winning the 1987 Marguerite Long-Jacques Thibaud Competition (now the Long-Thibaud-Crespin Competition). She plays a 1757 Guadagnini on loan from the Rin Collection