The piano trio from Switzerland received a cash prize of €4,000 as well as performance and publicity opportunities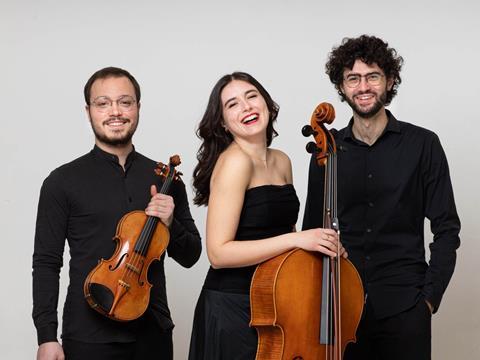 Read more news articles here
Trio Sheliak, a piano trio based in Switzerland, has been announced as the winner of the Filippo Nicosia Chamber Music Award. Pianist Sergio Costa, violinist Emanuele Brilli, and cellist Matilde Michelozzi have received a cash prize of €4,000, two concerts offered by Gioventù Musicale d'Italia in 2023 and a Musical Portrait in Archi Magazine.
In a post on the trio's Facebook page it said: 'We are so excited for this recognition at the end of a challenging but rewarding year. Big thanks to Simone Gramaglia, Kyril Zlotnikov and Chiara Cattani creating this award and for inspiring and motivating us with their wonderful lessons.'
Trio Sheliak was founded in 2019 at the Fiesole Music Academy and has since gone on to win prestigious awards such as the first absolute prize at the Premio Crescendo 2021 Competition, the second prize at the Rospigliosi Competition 2022, and the First Chamber Music Prize at 17th International Competition City of Padua.
Costa, Brilli and Michelozzi are currently studying at the Haute École de Musique de Lausanne, Conservatorio della Svizzera Italiana and Luzerner Sinfonieorchester.
The award of 'Best Italian Chamber Ensemble', winning four concert performances, went to the Chimera Trio: a clarinet, cello and piano chamber group. The Italian-British piano trio Cygnus Trio won the recording award which will see the group record an album in 2023 with DaVinci Publishing.
The Thomastik-Infeld Award, providing a string consultation session to find out which types of strings best suit a player's instrument, went to the Italian Quartetto Erinni while Trio Febo won the Ricordi Award receiving €500 worth of scores.
'We're happy to announce that we've received the Ricordi / UMPC Award,' Trio Febo said on social media. 'Many congratulations to our trio colleagues too, for having shared an amazing repertoire during the lessons and for the well-deserved prizes awarded to them.'
New to the 2022 awards was the offer of a fine viola by the Cremonese maker Giorgio Grisales to the best viola player, which went to the Doré Quartet's violist Jose M. Muriel. The Mahjong Quartet from China won the chamber music masterclass prize.