Developing teaching strategies and receiving feedback from industry professionals are just some of the benefits to reap from the programme, writes the double bassist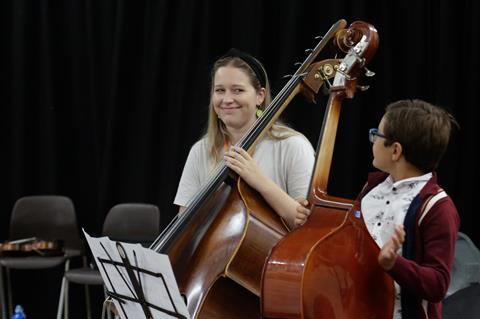 Read more student and player experiences in our Education Hub
I applied to be an Ambassador because I'd previously attended a few Benedetti Foundation online sessions. The one that sticks in my mind is a conducting workshop with Alex Laing and Natalia Luis-Bassa, and I thought to myself, 'It would be cool to work with these people…'. I realised that this would be an opportunity to learn and become a better educator with their help. I didn't think I would make it onto the programme, and finding out I'd made it through was an extremely exciting moment for me. I had a feeling that the Foundation would help me to figure out how to fit teaching into the 'portfolio career' that so many professionals talk about, and their enthusiasm for improving music education around the world makes me feel extremely hopeful. My desire to become a better teacher and to progress within my craft has since been nurtured and supported by the Foundation, and I'm so happy I took that leap and applied!
I'm currently a postgraduate double bassist at the Royal Academy of Music, so my day-to-day is quite varied. Some days I'm teaching bass at a secondary school all day, others I spend the whole day practising, and I'm often doing gigs here and there mixed in with a few classes and hopefully some time to socialise and cook nice food! I'm really trying to branch into the profession at the moment, so I'm taking every opportunity I can as well as trying to improve as a bassist and a teacher while I have the most time to do so. The Foundation is my main source of education and motivation when it comes to teaching, and attending sessions is a priority for me in my weekly schedule.
The programme is extremely diverse and constantly adapting. We have Zoom sessions, both with our core mentor groups and calls with all the other ambassadors, tutors or guest speakers (recently we've had the likes of Jimmy Rotheram, Nate Holder and coming up we have a session with the incredible Ray Chen!). We then have in-person sessions which involve a number of ambassadors helping out with workshops in primary schools or other educational settings, which I personally think are invaluable experiences.
One of the most exciting parts of the programme are the 'Ambassador Days' where all the ambassadors meet in person and listen to and discuss issues with world renowned professionals. We recently had an Ambassador Day in London where we spoke to Dr Kadiatu Kanneh-Mason, Gillian Moore CBE, Karen Cargill and John Wallace. As Gillian said so perfectly on the day, 'Music is part of our society,' and I'm still buzzing from hearing these incredible professionals talk about how we can continue to keep music education, and music in general, as a part of everyday life.
One of my main highlights so far has been working as a part of the live sessions in Saffron Hall back in September 2021 as an Ambassador. During this experience, I really understood how the education and training the Foundation had given us slotted into real life situations, such as these workshops, and how valuable this training is for our professional lives. I got to work alongside Alice Kent, who is an amazing bassist and educator, and I soaked up every single thing she did! We had Q&As with Nicky herself and other icons such as David Watkin, and ultimately had the chance to delve into their minds and capture how to stay a part of this profession, which frankly isn't receiving enough support at the moment. These in-person sessions are such a great time to practise what we've been taught in context, regardless of our previous experience.
I feel the programme prepares you for professional life because you get to interact with professionals who have been succeeding in this industry for years. You get to ask them absolutely anything, and they're always ready to respond with wisdom and feedback. It prepares you for this lifestyle by giving insights into how to be successful and what you personally might want to learn more about, and you are also constantly creating new contacts and networks with the other young professionals and tutors. We're given strategies for one-to-one teaching, leading workshops, navigating chamber groups, successfully working in this industry and countless other topics. I really can't express how much this programme has helped me and shown me that if you put a lot of effort into something, you can gain so much out of it.
The application process for the new cohort of Ambassadors will open on 1 November. It is open to instrumentalists, creatives and workshop leaders and will be announced in early 2023.