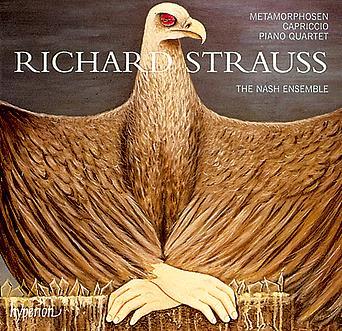 The Strad Issue: January 2007
Musicians: Nash Ensemble
Composer: Strauss
When the 21-year-old Richard Strauss was composing his Piano Quartet he was very much in the thrall of Brahms, and had the outcome carried his predecessor's name it could well have formed part of the standard repertoire. It's a powerful score full of exuberant sweep and Romantic warmth, with thematic content that is both strong and memorable. On disc it is something of a rarity, which makes this new release all the more welcome. The playing has those many attributes you would expect from the Nash Ensemble, among them immaculate intonation and fluid tempos that allow the music to flow in long unbroken phrases. The recording is slanted towards the piano so that in fortissimo passages it tends to overpower the strings, though in quieter moments we hear pianist Ian Brown playing with wispy delicacy.
When composing the Metamorphosen for 23 solo strings, Strauss had used a short score for string septet, almost certainly never intending it to be performed in that format. It was rediscovered in 1990 and subsequently published, though when shorn of the opulent sound of the ensemble you miss the emotional intensity. Here it emerges as a very sad work, the Nash strings producing a gorgeous and velvety smooth sound.
That fine-spun tone serves the Capriccio Prelude very well, with the sensuous aspects of this protestation of love characterised with gentle affection and the two cellos sounding wonderfully refined and sonorous. Without the piano the sound quality is admirably balanced, with inner voices clearly defined.
DAVID DENTON