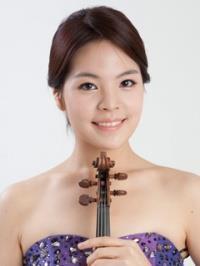 The winner of this year's Moscow International David Oistrakh Violin Competition in Russia was Ji Yoon Lee, 21, from South Korea. Lee studies with Nam-Yun Kim in Korea and Kolja Blacher at the Academy of Music Hanns Eisler in Berlin. She received €15,000. Second prize was shared by Kristi Gjezi, 23, from France and Meruert Carmenova, 20, from Kazakhstan. American Elly Suh, 24, came third.
In the junior category the first prize of €5,000 went to South Korean Soo-Been Lee. Lee, 13, studies with Nam-Yun Kim at the Korean National Institute for the Gifted in Arts. Sixteen-year-old Uchio Ayaka, from Japan, won second prize and Turkish Elvin Ganiyev, aged fifteen, came third.
The competition is held in memory of Russian violinist David Oistrakh (1908–1974), in conjunction with the Moscow State P.I. Tchaikovsky Conservatory. It aims to discover and support talented young musicians at the beginning of their careers, and is open to musicians between the ages of 10 and 28.