A selection of letters The Strad receives each month from its readers around the world
Leave then kids alone
It's common knowledge that music provision in UK state schools continues to sink to new lows. Today, one in five students has no option to study music at GCSE, let alone A level, and it will come as no surprise that the vast majority of such students live in the country's most socio-economically deprived areas. In five years as a classroom music teacher, I have seen a narrower and narrower focus on attainment in 'core' subjects at the expense of those that teach creativity, expression and teamwork. The shortening of lunch breaks, supposedly to help students learn more and misbehave less, has further restricted time for extra-curricular musical activities.
Like many of those interviewed in the article ('Learning difficulties?', June 2019), I was dismayed to learn that the government had chosen to partner with the ABRSM to design its new curriculum for music in schools. I'm sure some will welcome the emphasis on reading notation and 'understanding the works of great composers', but this attempt at restoring the place of music in schools is massively wide of the mark. Instead, we need two things: first, the statutory commitment to providing all children under the age of 14 with at least an hour a week in which to explore and experiment with sounds and forms. Second, we should try to speak to these young people on their own terms and make space in our curricula for the kinds of music that actually excite them. Of course there's a place in music education for ABRSM and their rigorous, traditional approach – it just isn't in our school classrooms.
MICHELLE OWEN
Merthyr Tydfil, UK
FLYING THE FLAG
Why do we see so few British string players with international careers, muses Charlotte Gardner (Opinion, May 2019). She might try looking for them. The British reputation for stellar talent is as high as it ever was, and orchestras in Europe and beyond are full of violinists, violists, cellists and bassists hailing from these shores. It's a situation practically born of necessity, given the paucity of orchestras in Britain compared with, say, Germany – and, sad to say, the cost of living in the UK compared with the average salaries of orchestra members.
Had Gardner searched for the words 'British concertmaster' on Google, she would have discovered Nicholas Wright at the Vancouver Symphony Orchestra; Laurence Jackson at the West Australian Symphony Orchestra; and Andrew Haveron (above) at the Sydney Symphony, on just the first page of search results.
CLAIRE SWALES
Newbald, UK
GREAT SCOTT
How interesting to read about the first recording of Shostakovich's Violin Sonata, made at the composer's home with him accompanying David Oistrakh ('Standing Strong', May 2019). It was sad to learn, though, that the ailing Shostakovich was so struck by the decline in his abilities as a pianist. I'm sure the feeling is familiar to most, if not all musicians of advancing years. The 1958 recordings of the composer's two piano concertos with himself in the solo role are a testament to his able pianism and his incisive ability to interpret his own music.
Reading the article I was reminded of a much sadder case, that of the African–American 'King of Ragtime', Scott Joplin. A year before his death at 49 in 1917, Joplin (right) made his only recordings – piano roll accounts of six of his own compositions, including the famous 'Maple Leaf Rag'. By this point, however, Joplin was suffering from the effects of tertiary syphilis and its impact on his coordination is heartbreakingly plain to hear. Readers wanting to listen for themselves can find digitised versions of the recordings at bit.ly/2YPunMv
LEAH SAMPSON
Little Rock, AR, US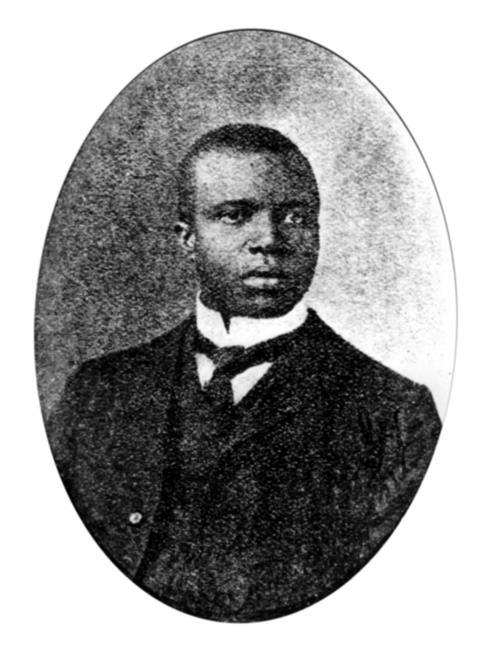 LOUD AND CLEAR
Congratulations to Royal Opera House (ROH) orchestra violist Chris Goldscheider, whose claim for damages as a result of hearing loss he sustained at work was upheld by the UK Court of Appeal. But what are the rest of us to do? The article pointed out that the Association of British Orchestras supported the ROH's argument that it would be impractical for musicians to wear hearing protection during rehearsals and performances. There doesn't seem to be any new legislation on the cards, either. Should we just sit tight until we too develop acoustic shock, then give Mr Goldscheider's solicitor a ring?
ANTONELLA CASIRAGHI
Milan, Italy