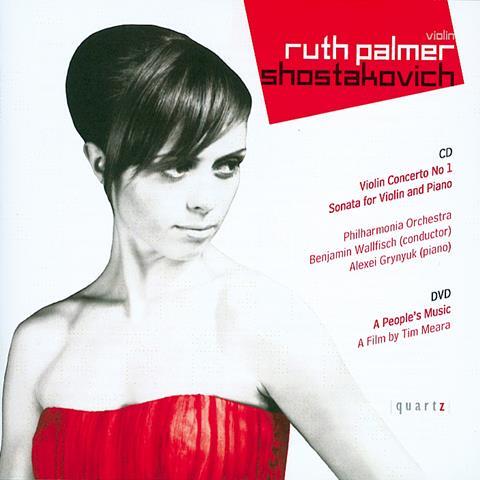 The Strad Issue: January 2006
Musicians: Ruth Palmer (violin) Alexei Grynyuk (piano) Philharmonia Orchestra, Benjamin Wallfisch (conductor)
Composer: Shostakovich
The Shostakovich centenary has inspired a flood of new recordings of the A minor Concerto, although none quite compares with the truly astonishing account by the young Latvian violinist Baiba Skride, who plays with a heart-rending intensity to surpass even David Oistrakh's world premiere recording for CBS with conductor Dimitri Mitropoulos.
You have to immerse yourself fully in the First Concerto's forbiddingly claustrophobic world of anguished metaphors to discover its inner soul – and Ruth Palmer does so fearlessly in the opening Notturno and third movement Passacaglia. There are times here when she appears to be merely breathing on her instrument, sharing half-whispered correspondences of painful intimacy. Interpretatively speaking, she is no less impressive in the whiplash Scherzo and high-energy finale, which she dispatches with astonishing flair and accuracy. Palmer sustains the most pure and jewelled sound throughout, supported to the hilt by the Philharmonia, which plays with the greatest conviction under Benjamin Wallfisch. In fact my only slight reservation about this sumptuously engineered performance is
Palmer's occasional reluctance to throw care to the wind and risk a few 'noises off' as she drives the music home.
The central Allegretto of the late Sonata also finds Palmer slightly cushioning her vertical strokes and thereby taking some of the sting out of the music's tail. But make no mistake, this is remarkable playing of considerable stature and a magnificent achievement for a debut album. Also included is a strikingly memorable half-hour documentary that traces Palmer's visit to Russia, graced by a series of powerful monochrome images and her own perceptive comments on the music. Highly recommended.
JULIAN HAYLOCK