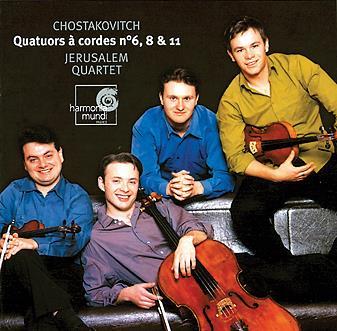 The Strad Issue: January 2007
Musicians: Jerusalem Quartet
Composer: Shostakovich
This disc makes me regret that I have not heard the Jerusalem's first disc of Shostakovich quartets, with nos.1, 4 and 9. If we are to have yet another cycle of all 15, it should be of this standard.
After a while, as I listened, it became apparent that comment was almost redundant. These young players 'fit' the music so closely, and it in turn suits their style so well, that the pieces seem almost to play themselves.
The performances are fresh, eloquent, rhythmical, tonally supple and, where necessary, intense without being overwrought. All three works are concise and the Jerusalem musicians consistently find room to be profound within a small space.
Balance among the players is exemplary, and when one of them has the melody, the other three know precisely how much to withdraw their tone. A corollary of this care is that they observe a wide range of dynamics.
The well-known Eighth Quartet is given one of the best performances available, opening with immeasurable sadness and closing with an equally deeply felt Largo. In between, the players hurl themselves at the more violent music but keep their poise.
The Sixth has lovely effects, with nicely pointed phrases and a good feeling in general, shading into profundity in the third movement (fine cello here) and working up real bite in the finale. The Eleventh opens broodingly and ends suitably enigmatically: the various glissandi are superbly thrown off. There is tremendous depth of tone in the Elegy. The recorded sound is outstanding.
TULLY POTTER