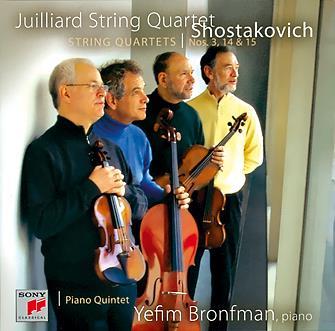 The Strad Issue: January 2007
Musicians: Juilliard String Quartet, Yefim Bronfman (piano)
Composer: Shostakovich
The Juilliard Quartet was on a very different continent when the Beethoven Quartet was making its legendary recordings of the Shostakovich quartets, and is now able to stand back from the emotion that Soviet repression inevitably induced among Russian musicians.
To previously released accounts Sony has added a new 2006 recording of the 14th Quartet in a performance that continues the clarity of line and rhythm which characterises the ensemble's playing throughout. Contrasts in colours are here largely restricted to many shades of grey as the players create a sombre opening movement, carrying the mood over to a grief-laden picture of the central Adagio that even exceeds the Beethoven's gloom. The mercurial writing at the opening of the final movement here sounds uncomfortable, though the concluding bars have never sounded more at peace with the world.
The Third's opening Allegretto avoids the exaggerated quirkiness that is fashionable, while the beginnings of both the second and third movements here are unusually resolute. I equally welcome the unhurried approach to the finale's main Adagio.
A frightening sense of impending tragedy runs through the Juilliard's 15th, and the frenzied and excellently played violin solos in the third and sixth movements have a dance of death feeling. Though there is wit and good humour in it, I am less taken by the performance of the Piano Quintet: it sits on the music's surface, with rather four-square rhythms, though it avoids the pitfall of inflating the music to symphonic proportions.
The Emerson Quartet recordings (Deutsche Grammophon) have shown us the reality of technical perfection, and here with the Juilliard you do notice intonation lapses, though inner clarity is exceptionally good and the sound quality is fine.

DAVID DENTON