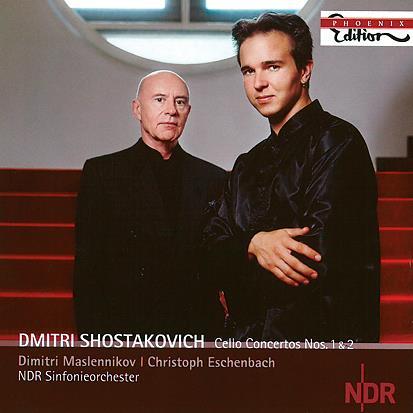 The Strad Issue: January 2009
Musicians: Dimitri Maslennikov (cello) NDR Symphony Orchestra/Christoph Eschenbach
Composer: Shostakovich
Shostakovich would surely have been gratified with the increasing prominence being given to his Second Cello Concerto, at least in terms of recording releases. It's certainly a testing work, presenting the soloist with large amounts of open canvas on which to paint the timbral colours. The opening, for instance, has 56 bars marked only piano and, with relatively sparse support from the orchestra, it is essential to maximise variety of vibrato and bowing nuance. These aspects seem far too literal in Dimitri Maslennikov's interpretation, and the intensely slow tempo he adopts makes sustaining the flow quite a challenge. The recording is clear but not particularly blooming – another aspect that hinders contrasts. Technically, Maslennikov cannot be faulted and he shines in the second-movement Allegretto where the fast quaver movement is served with incision and punch. The finale, however, would have benefited from a more theatrical approach in what is a rather sombre work written when Shostakovich's health was declining.
In the more familiar First Cello Concerto, Maslennikov is once again technically very impressive, and he is intelligently partnered by Christoph Eschenbach and the NDR Symphony Orchestra. Yet the interpretation of the cadenza seems somewhat limited in scope, and could have done with a more charged dramatic delivery particularly as it builds up to the finale.


Joanne Talbot