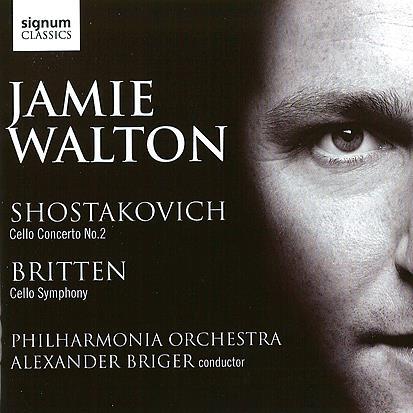 THE STRAD RECOMMENDS
The Strad Issue: January 2009
Musicians: Jamie Walton (cello) Philharmonia Orchestra, Alexander Briger (conductor)
Composer: Shostakovich, Britten
This second in a projected series of three discs by these artists, each pairing an English and a Russian 20th-century concerto, brings together two masterworks inspired by Rostropovich. You couldn't find closer companions than these two works, both written in the 1960s by composers who admired each other's work and shared a mutual friendship with Rostropovich.
There's a bitter feel to the opening of the Britten. Jamie Walton, a pupil of William Pleeth and Margaret Moncrieff (who died a couple of weeks after the release of this disc), lays into the repeated down-bow chords with uncompromising harshness over the threatening rumblings of the Philharmonia Orchestra. He conveys well the often indecisive nature of the cello line in this movement, not trying to push the solo part into something it isn't. But he takes on the heroic mantle with ease in the Adagio, with formidable tone production from wide, sweeping bows. The Passacaglia, encored at the work's 1964 premiere in Moscow, opens inspiringly. Walton plays with a breadth and passion that is matched by Alexander Briger and the Philharmonia, and enhanced by the disc's warm and immediate recorded sound.
The rich reverberence of Walton's 1712 Guarneri cello is also in evidence in the first movement of Shostakovich's Second Concerto. He sketches some beautiful melodic shapes in this desolate soliloquy, using imaginatively varied vibrato. The Allegretto's theme with its screaming glissandos is almost obscenely brash, and the transition in the last movement from the staccato march to the soaring four-note melodic figure never fails to move me.
JANET BANKS