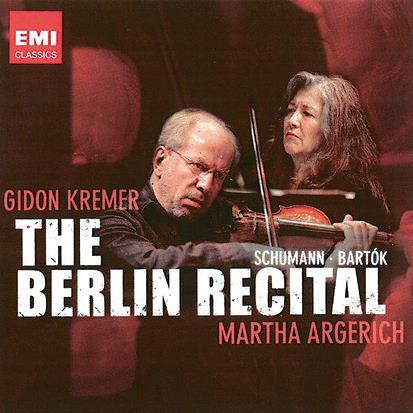 The Strad Issue: January 2009
Musicians: Gidon Kremer (violin) Martha Argerich (piano)
Composer: Schumann, Bartók, Kreisler
Gidon Kremer and Martha Argerich have given us formidable duo concerts, among which this one from Berlin in December 2006 must stand high. Those who have heard Kremer in recent years will know that the once trustworthy intonation has shown chinks. He is on his best form in this recital and although not every note is bang in tune, in the context of such vivid music-making it hardly matters. The recordings are good and it is a matter of celebration to have a solo from Argerich, an excellent Kinderszenen.
Schumann's great D minor Sonata has tempted few of the great violinists. Among those of yesteryear only Busch (magnificent) and Enescu (too late but memorable) did it justice. The present duo made a studio recording (Deutsche Grammophon) and Argerich has given us live versions with two other violinists. This performance may be the best of her four.
The disturbing nature of the urgent, dramatic first movement is fully realised. In the Scherzo some rhythm is terrific, some a little loose: Kremer cannot match Busch's hurtling staccato. The strange third movement is very fine, with 'inward' playing from Kremer. Argerich is a little heavy in the return of the Scherzo material, but the finale is suitably restless.
The Bartók solo Sonata is absolutely the best Kremer, give or take the odd tuning twinge, scratch or scrape. The first two movements are heroic, the third really internalised with marvellous echo phrases, trills and tremolos. The finale is superb, although the Hungarian episodes are almost too fast to deliver their full flavour.
The First Violin Sonata, which these artists recorded for Deutsche Grammophon, is riveting, full of rhythmic subtleties, atmospheric changes of mood, amazing quiet playing and eloquence. Kremer buzzes like a swarm of bees at the start of the finale. Two Kreisler encores were apparently more fun 'on the night'.


TULLY POTTER