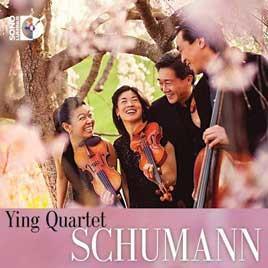 The Strad Issue: March 2015
Description: A swift but expressive approach to Schumann's three quartets
Musicians: Ying Quartet
Composer: Schumann
On first acquaintance, the Ying Quartet's tempos seem uncommonly fast, particularly so in the finale to the First Quartet, where there is a breathless urgency. Checking them against Schumann's metronome markings, I find that throughout all three works they are being meticulously observed. Within this literal approach the Yings allow themselves a freedom of expression that, for instance, shapes with beauty and repose the central section of the third-movement Adagio, the mood having been set by the elegant and rounded tone of Phillip Ying's cello.
Cleanly delineated strands and inner clarity reap rich rewards in the opening movement of no.2, and even more so in the complexity of the second movement's set of variations. Dynamics are well observed, especially so in the precise shading of the pensive second section of the Third Quartet's Adagio, though as I progressed through the disc I had placed question marks over moments of intonation, particularly in the first violin's quick running passages.
This two-CD package offers a Blu-ray disc, which I used in its stereo mode for this review (it also offers surround sound). The sense of space around the sound was much diminished when I auditioned the standard CD format.
DAVID DENTON