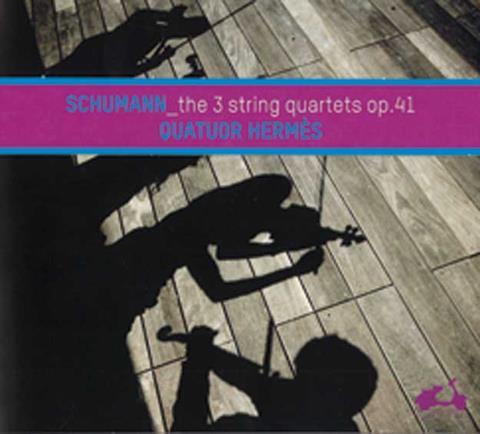 THE STRAD RECOMMENDS
The Strad Issue: February 2015
Description: Performances that bring out the Romantic urgency of Schumann's writing
Musicians: Hermès Quartet
Composer: Schumann
The Hermès Quartet finds plenty of drama in Schumann's quartets, and the players like to keep things moving. The First Quartet moves from the still, small voice of the Introduzione into playing of emotionally gripping dynamism and power. Both the scherzo and the final Presto move at a frenetic pace, full of breathless excitement. Cellist Anthony Kondo plays his melodies in the Adagio beautifully, nicely contrasted with the anguished dialogue in twisting semiquavers between second violinist Elise Liu and violist Yung-Hsin Lou Chang.
The Second Quartet also presses forward, the first movement propelled by the give-and-take of its dovetailed phrases, the scherzo light as well as scampering. The Andante second movement is both wistful and playful, and come the finale the players are channelling the spirit of Haydn.
In the Third Quartet the playing is flexible and fluid, catching the halting, questioning nature of the music with its unsettling syncopations. In contrast, the fugato and Tempo risoluto sections of the second movement are almost alarming in their muscular certainty, and the finale is full of exuberant, toe-tapping dance. These are superb performances by a quartet that sounds like a single instrument with its immaculate ensemble, tonal blend and purity of intonation. The recorded sound is close and resonant.
TIM HOMFRAY