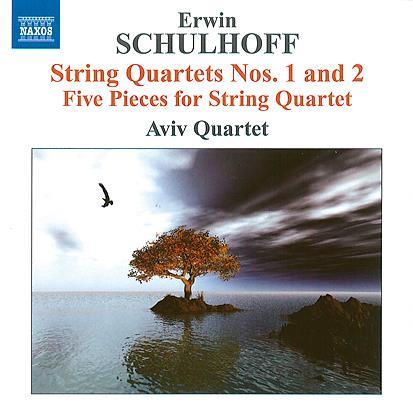 The Strad Issue: January 2010
Musicians: Aviv Quartet
Composer: Schulhoff
The three works here all date from the mid-1920s and epitomise the quirky, engaging music of the Czech composer Erwin Schulhoff (1894–1942), sometime Dadaist, Expressionist, neo-Classicist, late-Romantic... his labels were many, varied and self-contradictory. There are hints of Bartók and Hindemith in the First Quartet, but also an individuality of voice that the Aviv players pick up on from the start. There's energy aplenty in their account of the opening Presto con fuoco, but they also capture the sultry mood of the remarkable second movement, with its indication 'con malinconia grotesca', and the more conventional melancholy of the finale.
The Second Quartet is less often heard, but the Aviv make just as good a case for this as they do for no.1, biting into the strings for the Bartókian Allegro gajo and gamely fielding the flying contrapuntal gestures of the final Allegro molto.
The Five Pieces, a kind of Baroque dance suite in modern dress, with waltz, tango, tarantella and so on, are typical Schulhoff, with their catchy rhythms (disarmingly off-beat in the Alla valse viennese) and melodic waywardness. The Aviv players again bring both charm and inventiveness to their playing.
The superbly balanced sound, recorded in a Toronto church, caps an essential disc for devotees of the once-forgotten figures of interwar central Europe.
Matthew Rye