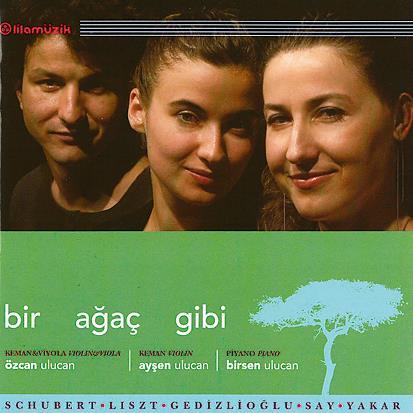 The Strad Issue: January 2009
Musicians: zcan Ulucan (violin) Aysen Ulucan (viola) Birsen Ulucan (piano)
Composer: Schubert, Gedizlio?lu, Say, Yakar, Liszt
The three members of the Ulucan family here were born in Bulgaria, emigrated with their parents to Turkey and have since followed very diverse educational routes leading to solo careers and the founding of a family trio. This very exacting disc, that crosses borders from West to East, presents three exceedingly gifted musicians in various permutations.
Schubert's sonata for the extinct arpeggione is here played on the viola and does not always fall kindly under left-hand fingers. But despite moments of dubious intonation in running passages, I still find it a highly persuasive reading with a gorgeous central Adagio.
The Mediterranean by the Turkish composer Zeynep Gedizlio?lu was composed for the trio in 2007 and creates a short but interesting mosaic of sound within its atonal mode. The five cameo pictures that form the Violin Sonata by her compatriot Fazil Say find new and interesting sonorities within tonality. It's stunningly played by Özcan Ulucan, who brings the feeling of a Dervish dance to the hectic third movement. The inspiration for Íncí Yakar's Variations on the Sorrowful Flagolet is a folk tune from Bulgaria, which is sung here on an old recording by the Ulucans' grandfather as a prelude to their performance. But just as the haunting work becomes progressively animated it seems to end in mid-air, leaving one wanting more.
The piano parts throughout show Birsen Ulucan to be an uncommonly fine player, confirmed by one of the most exciting readings of Liszt's 'Dante' Sonata I have encountered. Well balanced sound quality and strongly recommend.
DAVID DENTON