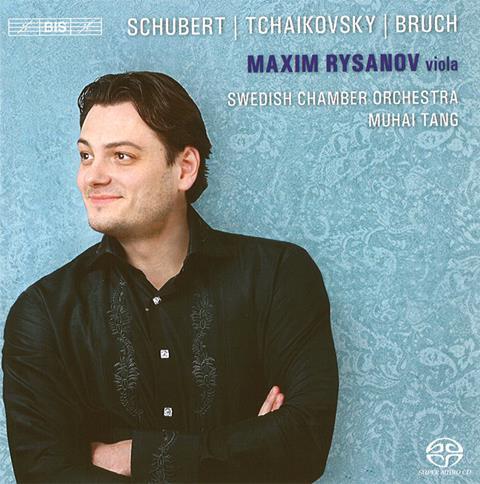 THE STRAD RECOMMENDS
The Strad Issue: January 2011
Description: All-round success for a disc of music for viola and orchestra
Musicians: Maxim Rysanov (viola) Swedish Chamber Orchestra/Muhai Tang
Composer: Schubert, Tchaikovsky, Bruch
Here is one of those recorded occasions where everything seems to have gone well. The Swedish Chamber Orchestra plays with unfailing sensitivity and flair under Muhai Tang, Dobrinka Tabakova's arrangement for viola and string orchestra of the Arpeggione Sonata is pitch-perfect, and the luxurious quality of BIS's immaculately balanced engineering (especially when experienced in SACD surround sound) could hardly be improved upon.
The star of the disc, however, is Maxim Rysanov. Not only is his intonation astonishingly true and his dynamic shading of phrases exemplary, but he captures Schubert's elusive sound world with bullseye accuracy. One senses throughout the sonata that it is indeed the work of a young man (Schubert was still only 27 at the time he wrote it), yet behind the flights of youthful fantasy there is a tantalising sense of human frailty and sadness.
If Schubert invariably exercises a degree of poignant emotional restraint, Tchaikovsky is more upfront with his feelings, even if the Rococo Variations is by his standards a relatively untroubled work. Here again, Rysanov (in his own skilful arrangement) captures the music's changing moods irrepressibly, bringing enchantment and an engaging sense of forward momentum to Tchaikovsky's inventive writing. Bruch's glorious Romance deserves to be far better known, and Rysanov plays it with just the right degree of gentle intensity. It makes the perfect end to an outstanding disc.


JULIAN HAYLOCK