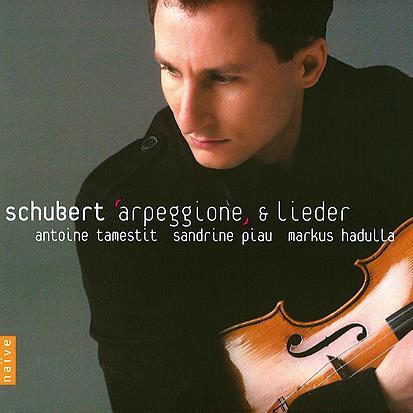 The Strad Issue: January 2010
Musicians: Antoine Tamestit (viola) Sandrine Piau (soprano) Markus Hadulla (piano)
Composer: Schubert
This recording celebrates the viola as a singing instrument in music by one of the most lyrical of all composers. Its cornerstones are haunting readings of the 'Arpeggione' Sonata and The Shepherd on the Rock, Schubert's late masterpiece in the song genre. Although the latter piece's obbligato was conceived for the clarinet, in Antoine Tamestit's eloquent playing the viola is a perfectly creditable alternative. He cunningly emulates Sandrine Piau's phrasing and even her portamento in the piece's yodelling passages.
A half-dozen Lieder are played on the viola. Obviously a lot of thought and much love has gone into these arrangements, which refuse to indulge in any instrumental enhancements like changes of octave or the addition of double-stops. Tamestit lets the music cast its spell, and it is of course a pleasure to hear it played with such artistry (the odd intruding slide notwithstanding). However, as a diehard Lieder lover, I find the exercise ultimately unsatisfying: the texts are too important an element to be left out.
The 'Arpeggione' receives a masterful reading, the players as closely knit a team as any, breathing and phrasing as one. Once and again I admire Tamestit's ability to bring forth a whole rainbow of colours even on one held note. Articulation is crisp at lively tempo, and Naïve's recording is excellent.
Carlos María Solare