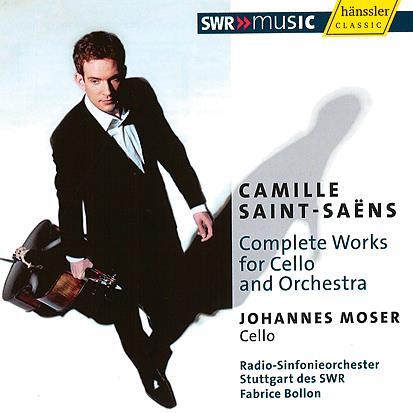 The Strad Issue: January 2009
Musicians: Johannes Moser (cello) Stuttgart Radio Symphony Orchestra SWR, Fabrice Bollon (conductor)
Composer: Saint-Saëns
With a collection of much-lauded CDs to his name already, Johannes Moser might be expected to produce a Saint-Saëns disc that is rather special. And indeed it is, beginning with a benchmark account of the First Concerto. His lean yet elegantly agile playing seems perfectly suited to the synthesis of Classical and Romantic elements so persuasively couched within this composition. Furthermore, the lucid textures of the Stuttgart orchestra under Fabrice Bollon serve this style of music particularly well, enhanced by a crystal-clear yet warm recording. This performance has everything; imagination and immaculate virtuosity are in harness.
Yet even such impressive credentials are unable to make a totally persuasive case for the Second Concerto. Technically more challenging than its predecessor, it has material that is less striking, although there are some eloquent moments, especially in the Andante sostenuto. More convincing to my mind is the Suite op.16, a set of sparkling cameos that includes a light and whimsical Scherzo, a brooding and melancholic Romance and a bustling Finale that rounds off the work in a brilliant manner.
Of course we have the usual chestnuts here: The Swan and the autumnally golden Romance (originally for horn). And also the fiery Allegro appassionata, a particularly heart-on-sleeve piece that, although we hear it all the time, is still effective, and here presented with lavish elan by this most gifted of cellists.
Joanne Talbot