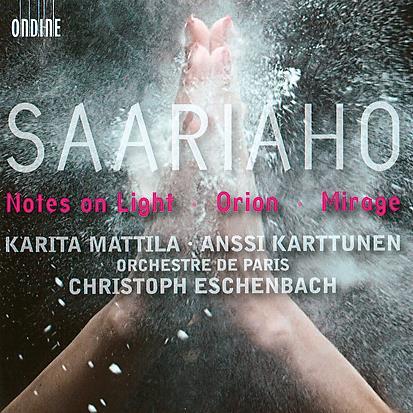 The Strad Issue: January 2009
Musicians: Anssi Karttunen (cello)* Karita Mattila (soprano)† Orchestre de Paris, Christoph Eschenbach (conductor)
Composer: Saariaho
The music of the respected Finnish composer Kaija Saariaho (b.1952) is precise and passionate, full of evanescent textures that suddenly dissipate or burst into brilliant life. This new disc features two works with solo cello, played with lyricism and fierce commitment by her compatriot Anssi Karttunen.
Notes on Light (2006) plots a constantly changing relationship between cello and orchestra in five vivid sound pictures, full of strange sonorities, microtones and sound masses that confuse timbre and harmony. It's a beguiling work, and Karttunen maintains a full-bodied, assertive tone while never overstating his role. He is particularly impressive in the slower movements, where his restless, ever-evolving sounds respond with quicksilver ease to the fleeting orchestral textures.
Mirage (2007) sets a text by Mexican shaman and mystic María Sabina for soprano (Karita Mattila, on dramatic form), cello and orchestra. The cello seems to mediate between soprano and orchestra; both soloists follow a similar melodic path, the cello's ornate melismas commenting on the singer's simpler lines. Karttunen brings a lithe muscularity to the energetic, volatile cello part that seems ready to explode into life at any moment.
The Orchestre de Paris under Christoph Eschenbach gives committed performances throughout, not least in Saariaho's dramatic Orion (2002), which completes the disc. The recorded sound is crisp and warm, and no extraneous noises betray the recordings' origins in live Paris performances from March 2008.
David Kettle