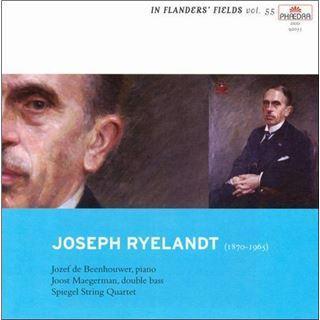 The Strad Issue: January 2008
Musicians: Spiegel Quartet, Joost Magerman (double bass) Jozef de Beenhouwer (piano)
Composer: Ryelandt
Joseph Ryelandt (1870–1965) was, like his Flemish compatriots Benoît, Blockx, Meulemans, Mortelmans and Roels, a formidable symphonist. He penned meaty oratorios, and his songs are admirably intimate. This rewarding collection in Phaedra's series 'In Flanders Fields' proves he was a chamber music master too.
The decade-old Spiegel Quartet plays Ryelandt's Piano Quintet of 1901 splendidly. It's a work tinged with Schumann and Brahms, and with echoes of Beethoven's op.132 Quartet (with which it shares the key of A minor). Both here and in his F minor Quartet (1903), Ryelandt generates bristling scherzos (sometimes 'thrown' by striking changes in tempi) and several distinctive, profound slow movements. The quintet's Adagio religioso sounds – anachronistically – like a Great War elegy. Jan Schiffer's beautifully controlled cello playing feels slightly sprucer than that of his colleagues, but in the quartet's gorgeous Andante all four strings capture well the movement's dark, Viennese twilight or Tchaikovskian demeanour.
It's worth heading straight to Ryelandt's lovely seven-minute stand-alone Adagio from 1895, virtually his 'Langsamer Satz', but the Andante and Variations for piano sextet is touching, too: pianist Jozef de Beenhouwer excels and Joost Magerman's double bass lends depth to Ryelandt's autumnal textures.
It's difficult to tell, within this disc's safe if not quite electrifying acoustic (that of a renowned Academy between Liège and Louvain), whether Stefan Willems's viola encounters a very brief tuning problem during the closing Allegretto of the sextet, or if it's Ryelandt's counterpoint throwing up its own unpredictable and taxing (but always interesting) anomalies.
Roderic Dunnett