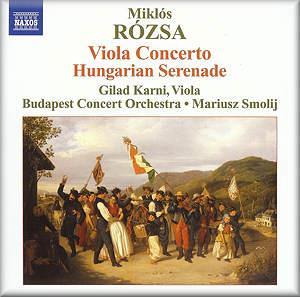 The Strad Issue: January 2009
Musicians: Gilad Karni (viola) Budapest Concert Orchestra MÁV, Mariusz Smolij (conductor)
Composer: Rózsa
In spite – or because – of his huge success in Hollywood, Miklós Rózsa strictly separated his work for the film industry from his 'serious' compositions (for example by giving opus numbers only to the latter). However, I couldn't quite avoid visions of Ben Hur's marching Roman legions during some of the more luscious tutti passages of the Viola Concerto. This was Rózsa's last orchestral work, written in the 1970s for Pinchas Zukerman, and – with a length of 36 minutes – an important one. Having concocted virtuoso vehicles for both Heifetz and Piatigorsky, Rózsa obviously knew his way around writing for strings. Even when stretching the viola technically, he always does so in an idiomatic way, making good use of the instrument's more sonorous registers. In Gilad Karni's hands, these can be very sonorous indeed: not for nothing was the player awarded the Peter Schidlof Prize for the most beautiful tone at the 1991 Tertis competition (where he also carried off the first prize three years later). Nor is Karni a mere sound-fetishist: he can also let rosin fly in the virtuoso runs of the scherzo-like second movement and the finale, making an excellent case for a concerto that deserves to be much better known.
The Hungarian Serenade (a 1946 reworking of a 1932 piece) has Rózsa wearing his Magyar heart on his proverbial sleeve (not that he hid it elsewhere, as the Viola Concerto also proves). In both pieces, the Budapest Concert Orchestra MÁV makes the most of Rózsa's astute orchestration, aided by Naxos's life-like recording.
Carlos María Solare