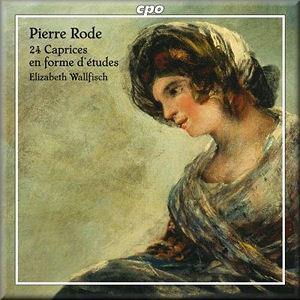 The Strad Issue: January 2010
Musicians: Elizabeth Wallfisch (violin)
Composer: Rode
First printed in 1815, Rode's 24 Caprices are charming pieces, far more than the didactic exercises that the term 'étude' might suggest, with moments of real beauty amid their extreme virtuosic demands.
Elizabeth Wallfisch, playing on a 1750 Petrus Paul de Vitor violin, gives spirited performances, but doesn't always achieve the supreme clarity of tone that these hugely difficult works demand. There is undoubtedly some wonderful playing here. Her control of the slower, more expressive caprices is often thrilling: the lamenting strings of thirds in the regal Siciliano of Caprice no.4, and the flowing Adagio opening to Caprice no.6, for example, are lilting; and the contrast between racing spiccato and bursts of legato is perfectly judged in no.18. The relentless pace, the fire and energy, of nos. 8 and 15 is brilliantly incisive; the lithe dance of no.5 is delicately described; the Presto of no.22 bubbles and sparkles.
Throughout, however, there are imperfections that make the collection uneven: the odd moment of sour intonation, noise from other strings and too-audible shifts mar the overall effect. Occasionally the sheer effort involved in mastering the technical difficulty of a phrase means that the music isn't allowed to speak, so that despite the warmth and shine of the recording, this pair of discs is ultimately disappointing.


Catherine Nelson