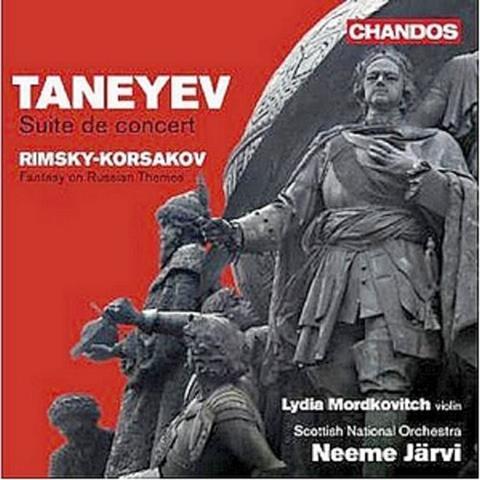 The Strad Issue: January 2009
Musicians: Lydia Mordkovitch (violin) Royal Scottish National Orchestra, Neeme Järvi (conductor)
Composer: Rimsky-Korsakov, Taneyev
If there is anyone who could rescue these two chips off the Russian nationalist block from total oblivion it is Lydia Mordkovitch, especially working with Neeme Järvi (a spontaneous studio artist if ever there was one), bathed in gloriously opulent Chandos sound. Neither work is among their respective composer's most compelling pieces – both present less than first-rate ideas in a somewhat prolix fashion. What saves them is the exceptional quality of their presentation, with Rimsky in particular papering over the structural cracks with an orchestral wizard's sleight-of-hand. Mordkovitch lavishes upon both works the kind of devoted care and attention normally reserved for bona fide masterpieces, playing every phrase with a ringing intensity and free-flowing spontaneity that brings them springing to life.
Bearing in mind the dashingly memorable violinistic outbursts in both Sheherazade and the Capriccio espagnol, one might have reasonably expected the Fantasy on Russian Themes to be a scintillating blockbuster. In the event, however, it turns out to be remarkably free of pyrotechnical outbursts, even in the Cossack-dance finale. There are, however, bounteous opportunities for soloistic rumination, which Mordkovitch plays with alluring sincerity and glorious tone, constantly drawing the listener into the proceedings.
The Taneyev is, as one might expect from a suite, more stylistically wide-ranging as well as more technically demanding. Occasionally Mordkovitch is not quite as mellifluous as in her younger years, but any slight infelicities are more than compensated for by her total musical immersion in Taneyev's sound world, especially the theme-and-variations finale with its swirling tarantella race to the finish.
JULIAN HAYLOCK