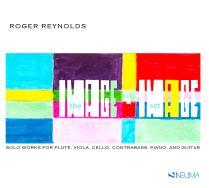 The Strad Issue: July 2016
Description: Paired pieces for solo instruments by an American iconoclast
Musicians: John Pickford Richards, Mark Menzies (viola) Alexis Descharmes (cello) Mark Dresser (double bass) Pablo Gómez (guitar) Rachel Beetz (flute) Yuji Takahashi, Eric Huebner (pianos)
Composer: Reynolds
Catalogue number: NEUMA 450-114
Roger Reynolds has often been called the 'American Iannis Xenakis' and the 'American Pierre Boulez', an apparent contradiction that his music rides with ease – suggesting that in reality he's the US Roger Reynolds. imagE-imAge is a set of instrumental pieces, a pair each for unaccompanied piano, double bass, guitar, viola, flute and cello that, as Reynolds's titles imply, offer different takes on the same pool of material.
Pieces categorised as imagE are, Reynolds says, 'evocative… lyrical, continuous, even tender', whereas those classed imAge are 'articulate… sectional, tending towards assertion and variety'. Reynolds's music often feeds off such polarities of gesture; but here the clear structural division opens up a kaleidoscope of internal dialogues. imagE/contrabass–imAge/contrabass is performed by Mark Dresser, who enters into a dialogue with his instrument: harmonics rebound against scattering pizzicatos as glissando figurations swell through the structure – all this following the sustained chromatic labyrinth of imagE.
The viola and cello instalments are equally discreetly dramatic. imAge/cello gradually pulls together disparate opposites of gesture and pitch, allowing imagE/cello to float in a slipstream of sound, while the two viola pieces stretch elegantly over a perfect arc. Performances emphasise Reynolds's lavish detailing; the recorded sound is intimate and sympathetic.
Philip Clark