A brave wordless experiment to capture the soul of the music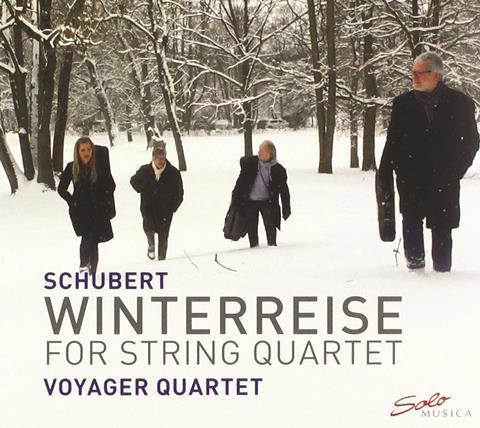 The Strad Issue: April 2020
Description: A brave wordless experiment to capture the soul of the music
Musicians: Voyager Quartet
Works: Schubert: Winterreise for String Quartet (arr. Andreas Höricht)
Catalogue Number: SOLO MUSICA SM 335
Can Schubert's Winterreise, perhaps the greatest song cycle ever written, work without a voice? Well, perhaps the appropriately named Voyager Quartet sets out to answer a slightly different question in this release, which transcribes twelve songs from Schubert's cycle and links them with newly written transitioning interludes by Andreas Höricht, the quartet's viola player.
Höricht's brief booklet note talks of the instrumental qualities in Schubert's work – its dissolution of the sort of boundaries that ask for a specific medium. Yet I'm not sure the string quartet really captures the soul of Winterreise (which seems to have been the intention) – its first-person loneliness, its bravery and even its roots in the musical vernacular. 'Gute Nacht' is made more complicated than it is, with frisky inner voices, which is to bypass the simple (and by implication, deep) soul of the music. Elsewhere, it's hard not to think of four musicians on a stage in evening wear, another anomaly in a piece that really speaks of the everyman.
I warmed, slowly, to Höricht's interludes. The journey itself, taken on its own terms, works well, particularly as the emotional tiredness sets in at 'Das Wirtshaus'. In some songs, 'Der Lindenbaum' for example, the separate instruments capture the lilting rhythms delightfully. But there's a pervasive feeling of one ensemble trying to imitate another, with something lost in translation. The sound, from the Konzertsaal arlberg1800 in St Christoph am Arlberg is of a high quality.
ANDREW MELLOR