An enticing introduction to Greek violin works of the last century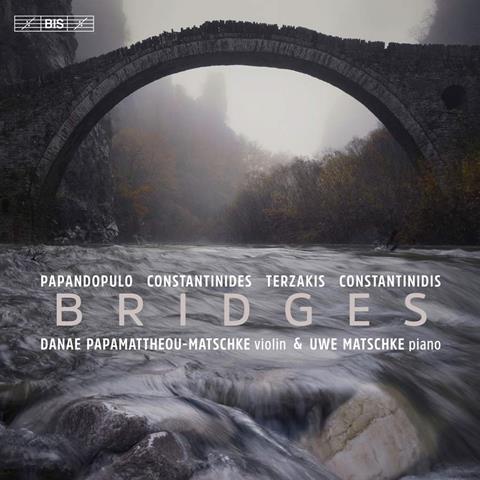 The Strad Issue: September 2023
Description: An enticing introduction to Greek violin works of the last century
Musicians: Danae Papamattheou-Matschke (violin) Uwe Matschke (piano)
Works: D. Constantinides: Violin Sonata. Y. Constantinidis: Suite sur des Mélodies Populaires Grecques du Dodécanèse. Papandopulo: Meditation; Violin Sonata. Terzakis: Sonate Infernale; Sprüche Im Wind
Catalogue number: BIS BIS-2563
The prospect of 20th-century Greek works for violin and piano might not immediately grab you, but Papamattheou-Matschke is a persuasive advocate, both in her performances with her father and in her booklet notes.
Any common Greek identity between the works is somewhat diluted by the other countries in which the composers settled. In Zagreb, Boris Papandopulo based his Violin Sonata around a Bosnian folk song, while Dinos Constantinides, who studied violin with DeLay and Galamian in New York in the 1960s, wrote his tautly composed sonata around a twelve-note row.
The beauty of Papamattheou-Matschke's sound on her 1760 Landolfi violin enhances these varied works and she approaches them with a sense of freedom and fantasy.
Her very pure intonation is noticeable in the most rewarding work on the disc, Dimitri Terzakis's Sonate infernale, based on Dante's Divine Comedy. Terzakis uses micro-intervals in the violin line and writes in a linear style with many lengthy quasi-improvisatory solo passages, played with most eloquent expression by Papamattheou-Matschke.
The most obviously Greek work on the album, Yannis Constantinidis's Suite, is a charming and very approachable piece, perhaps reflecting his career in light music – six movements based on melodies from different Greek islands, played with engaging simplicity. The recorded sound is well-balanced and translucent.
JANET BANKS