Proving that you can still count all Brahms's violin sonatas on one hand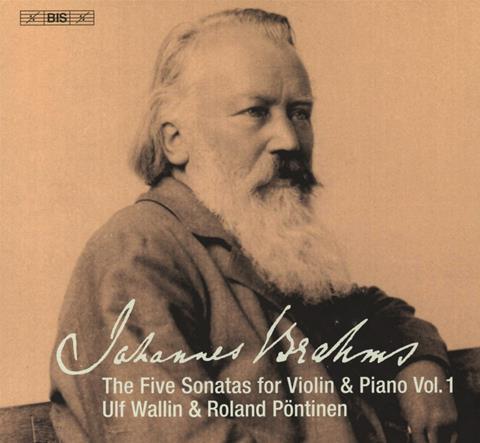 The Strad Issue: September 2019
Description: Proving that you can still count all Brahms's violin sonatas on one hand
Musicians: Ulf Wallin (violin) Roland Pöntinen (piano)
Works: BRAHMS Violin Sonata in F minor op.120 no.1, Scherzo ('FAE' Sonata); Violin Sonata no.1 in G major op.78; O kühler Wald op.72 no.3; An die Nachtigall op.46.no.4
Catalogue Number: BIS-2369 (SACD)
Five! What? All violinists, and everybody who matters, know that Brahms wrote three violin sonatas. Violists know that he sanctioned his clarinet sonatas for use by viola players. Not many know that he also arranged them for violin and reworked the solo and piano parts (let us pass over Brahms's view to his friend the violinist Joachim that he thought the viola versions were awkward and unenjoyable).
In the first of a two-volume recording project, Ulf Wallin and Roland Pöntinen are not just playing the sonatas as curiosities; they are claiming them as part of the canon. So, here is the Violin Sonata in F minor, with octave adjustments for the bits that go too low, reassigning of parts between instruments, and so on. They play it well, open-hearted in the first movement and with an intimate, confessional air in the central Andante. Wallin has a warm sound and an easy, flowing way with Brahms's weaving phrases.
In the first movement of the G major Sonata he gives a graceful, essentially lyrical performance, stroking and caressing the melodies in a way that makes the strident outbursts all the more striking. The Adagio is gentle and sometimes mysterious, and the finale light and airy. Pöntinen is a fine and sensitive partner. The recording is close, with some resonance.
TIM HOMFRAY