Freewheeling, elegantly vital Schumann from French musical explorers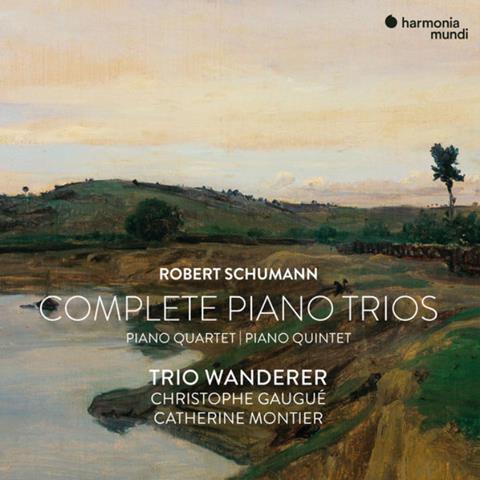 THE STRAD RECOMMENDS
The Strad Issue: July 2021
Description: Freewheeling, elegantly vital Schumann from French musical explorers
Musicians: Trio Wanderer, Christophe Gaugué (viola) Catherine Montier (violin)
Works: Schumann: Piano Trios: no.1 in D minor op.63, no.2 in F major op.80, no.3 in G minor op.110; Piano Quartet in E flat major op.47; Piano Quintet in E flat major op.44; Phantasiestücke in A minor op.88
Catalogue number: HARMONIA MUNDI 902344.46
Last year Trio Wanderer collaborated with violist Christophe Gaugué and violinist Catherine Montier in the Shostakovich Piano Quintet, with great success. Now they're reunited for this generous Schumann programme of the works for piano and strings spanning his marriage to virtuoso pianist Clara Wieck, and it's a set that deserves a prime spot on anyone's shelf.
Overall these are lucidly textured, light and crisply articulated readings, the many dividends of which include the crystalline definition of the Quintet's final fugue; and while essentially it's all feeling at the Classical end of the performance spectrum, it's far from cool, as the Quartet's gently ardent Andante cantabile demonstrates up top.
More pluses are the sensitive balancing of parts, especially from pianist Vincent Coq; the musicians' colourful responsiveness to Schumann's fast successions of contrasting sound worlds and sharp dynamic switches; the right-feeling tempos and rhythmic impetus, combined with fun-filled risk-taking: the willingness to sound less than pristine at the opening of the Quartet's finale, followed by the freewheeling élan as they work their way towards its close, in unfailingly limpet-tight ensemble.
The recording itself is another magic ingredient: far away enough to give the instruments space, but closely, intently enough to showcase the intimate, conversational feel of the playing. Highly recommended.
CHARLOTTE GARDNER