A new Beethoven cycle offers a fulfilling listen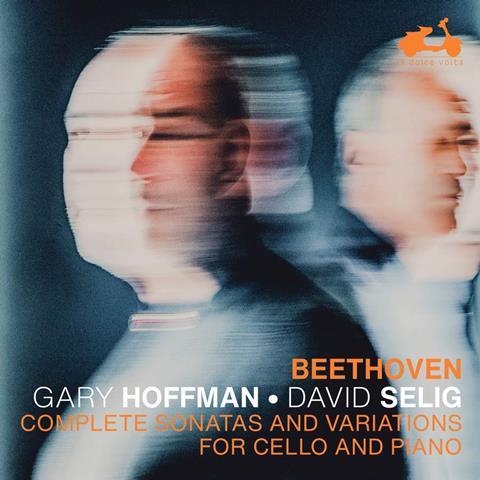 The Strad Issue: December 2023
Description: A new Beethoven cycle offers a fulfilling listen
Musicians: Gary Hoffman (cello) David Selig (piano)
Works: Beethoven: Cello Sonatas nos.1–5; Variations: on Mozart's 'Ein Mädchen oder Weibchen' op.66, on Handel's 'See, the conqu'ring hero comes' WoO45, on Mozart's 'Bei Männern welche Liebe fühlen' WoO46
Catalogue number: LA DOLCE VOLTA LDV111/2 (2 CDs)
Beethoven's works for cello and piano span his creative life and illustrate how he gradually transformed the keyboard-dominated 'accompanied sonata' of his inheritance into a musical conversation between equal partners. Although the pianist is the more 'talkative' in the two op.5 sonatas, David Selig notably displaying his dexterity in their spirited rondo finales, cellist Gary Hoffman tellingly contributes some significant thematic exposition and dialogue.
Equality is essentially achieved in the Third Sonata op.69, the serene, lyrical outer movements of which give Hoffman ample opportunity to showcase the mellifluous sonorities of his 1662 Nicolò Amati. The same work's expansive Scherzo also features some crisply articulated repartee, which is intensified in the more contrapuntal op.102 sonatas, particularly in the development of the Allegro vivace of no.1 and the striking Allegro fugato in no.2's finale. These players truly plumb the expressive depths of op.102 no.2's mournful Adagio and offer compelling musical insights in their readings of the lyrical Adagio cantabile of op.69's finale and the pensive slow introduction and melancholy, dramatic Allegro of op.5 no.2's opening movement.
Hoffman and Selig dispatch the three variation sets with due aplomb, responding appropriately to the music's contrasting moods. Selig is again the dominant partner, displaying impressive dexterity in the figural variations of op.66 and WoO45, but Hoffman occasionally grabs the limelight, notably in the rapid-fire triplets of op.66's seventh variation and the second half of Variation 10. Both engage in closer dialogue in WoO46, particularly in its fifth variation's playful instrumental interchanges.
The recording is well-balanced but occasionally too present to accommodate comfortably the piano's higher registers.
ROBIN STOWELL