Compelling accounts put an overlooked composer back on the map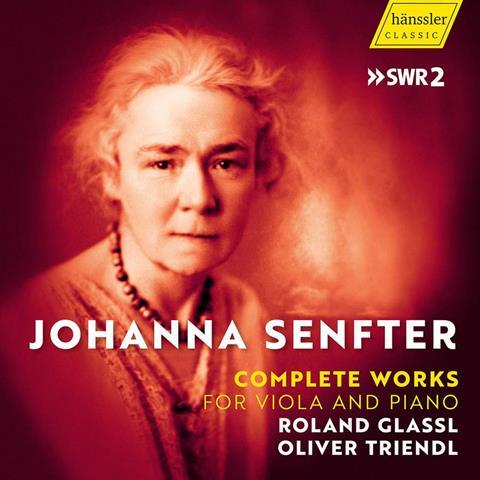 The Strad Issue: May 2023
Description: Compelling accounts put an overlooked composer back on the map
Musicians: Roland Glassl (viola) Oliver Triendl (piano)
Works: Senfter: Viola Sonatas: no.1 op.41, no.2 op.101; Duo op.127, Variations op.94; Five Pieces op.76
Catalogue number: HÄNSSLER CLASSIC HC22076 (2CDs)
Burdened with fragile health due to a severe bout of diphtheria during her childhood, Johanna Senfter (1879–1961) led a sedentary life, dedicated to fostering the musical life of her native town, Oppenheim am Rhein in south-west Germany. She studied in Frankfurt and Leipzig, numbering Max Reger among her teachers. The nearly exhaustive catalogue she compiled of her compositions numbers 134 opuses. The present set includes all her music for viola and piano.
The earliest work is a sweeping Sonata in F minor dating from 1922 that shows many Regerian traits in its form and shaping of themes, particularly in the Scherzo and variation-form finale. Similarly built and – at 37 minutes – even more expansive, the F major Sonata from 1943 shows the composer enterprisingly pushing formal and harmonic boundaries without quite abandoning traditional tonality. Written the same year, Senfter's op.94 is a set of variations on an original theme capped by a fugue, again a most Regerian kind of structure that, however, distinctly shows her by-now familiar fingerprints.
Unhindered by formal or textural restraints, her treatment of tonality is at its freest in the Duo from 1956, her last viola composition. Contrastingly, the Five Pieces written in 1932 employ a simpler vocabulary fitting to their use as church music illustrating various Christian festivities (the Christmas hymn 'In dulci jubilo' features prominently in the opening movement).
Senfter played both violin and piano and her writing is accordingly idiomatic. Roland Glassl and Oliver Triendl make a convincing case for her music with consistently well-shaped, tightly concentrated readings that have been faithfully recorded. Johanna Senfter's violin music has already been recorded by Friedemann Eichhorn. With her viola works now also covered, let's hope for further exploration of this fascinating composer's substantial oeuvre.
CARLOS MARÍA SOLARE