Bach son's intriguing concertos teeter on the border of Baroque and Classical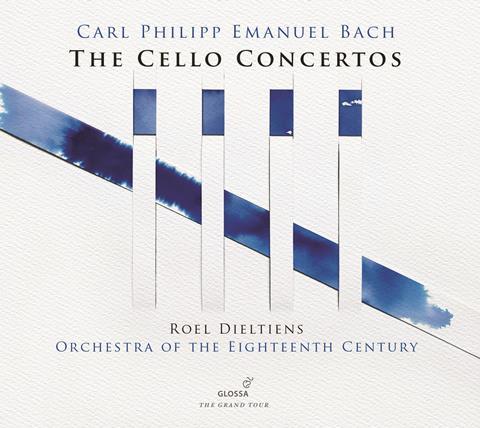 The Strad Issue: February 2020
Description: Bach son's intriguing concertos teeter on the border of Baroque and Classical
Musicians: Roel Dieltiens (cello) Orchestra of the Eighteenth Century
Works: CPE Bach: Cello Concertos: in A minor Wq170; in B flat major Wq171; in A major Wq172
Catalogue Number: GLOSSA GCD921127
Cellists have reason to be grateful to the second of Bach's sons, who handily filled a chronological gap in the concerto repertoire between Vivaldi and Haydn. Composed within the space of a few years shortly after the death of his father, Carl Philipp Emanuel laid them out as concertos for cello, flute or cembalo, although there is reason to suspect that they were conceived initially as cello concertos, even if their intended soloist cannot ultimately be identified.
They exhibit the range of CPE's preoccupations: nervy, jittery outer movements, even anticipating the Sturm und Drang of the following decade in the opening Allegro assai of the A minor; amiable galanterie; soulfully sighing Empfindsamkeit in slow movements. Baroque-ish figurations teeter on the verge of a Classical profile, although sequential writing and repetition often prevail over true development. The soloist often plays the role of mediator, introducing lyrical themes that contrast with the more discursive writing of the orchestra.
Roel Dieltiens and the Orchestra of the Eighteenth Century convey the hyperactivity of much of this music, albeit a touch more laid-back – and in a more generous acoustic – than Nicolas Altstaedt with Arcangelo (Hyperion CDA68112), to cite a recent competitor. Dieltiens's contemporary instrument exhibits a grainier tone than Altstaedt's, and Glossa's microphones focus on its treble sonorities at the slight expense of a richer, more tenorial sound.
DAVID THREASHER