Plenty of gold to be mined here in an enterprising collection of concertos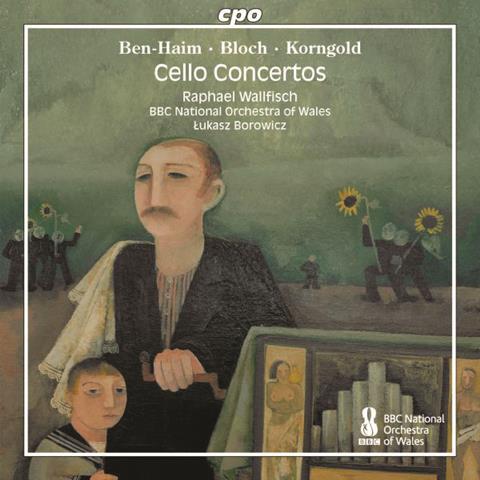 The Strad Issue: February 2020
Description: Plenty of gold to be mined here in an enterprising collection of concertos
Musicians: Raphael Wallfisch (cello) BBC National Orchestra of Wales/Łukasz Borowicz
Works: Ben-Haim: Cello Concerto (1962). Bloch: Symphony for Cello and Orchestra (1954); Vidui and Nigun from Baal Shem Suite. Korngold: Concerto in C major in one movement; Tanzlied des Pierrot
Catalogue Number: CPO 555 273-2
Raphael Wallfisch's enterprising series for CPO has showcased a considerable number of neglected cello concertos by émigré Jewish composers. Perhaps the most high-profile and stylistically defined of those featured here is Korngold. His Concerto, written at a time when his star had been burning brightly in Hollywood, was originally created for the Warner Brothers film Deception starring Bette Davis, and this reworking of the material reflects the emotional turbulence of the story's love triangle. Wallfisch and the BBC NOW provide a carefully rehearsed and compelling rendition, with an evocative delivery of the strikingly lyrical second theme. The golden hues of nostalgia also grace the other contribution from Korngold in the shape of the 'Tanzlied' from his opera Die tote Stadt. Again a gloriously soaring theme allows the cello to glow.
Paul Ben-Haim's Concerto is likewise treated to a meticulously prepared interpretation. The work opens with strong rhythmic material, and this feature is also present in the exciting and highly charged Finale, a movement enlivened with strong hints of Orientalism. Although the composer's musical language is direct and fluent there is a tendency, particularly in the central Sostenuto, for the melismatic ideas to lack a sense of direction. Furthermore, the close-miked recording diminishes the dynamic range and this possibly does such works a disservice.
Bloch's contribution is also a mixed bag. The Symphony for Cello lacks distinctive material, although the central Agitato in this three-movement work achieves some degree of intensity. Nonetheless, it is in Bloch's religiously oriented works where the composer's inspiration feels strongest, and here Wallfisch provides a richly powerful delivery of 'Nigun'.
JOANNE TALBOT