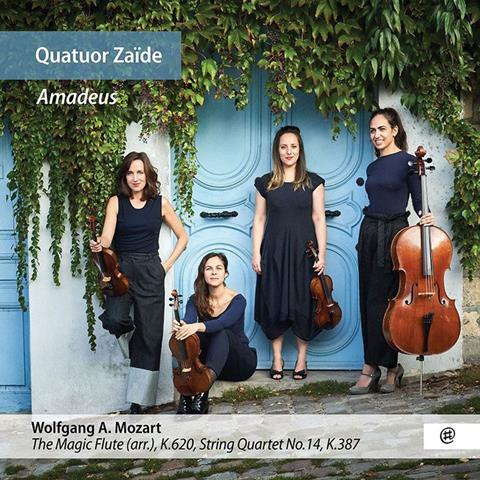 The Strad Issue: August 2019
Description: Fluteless but still magic: Mozart's opera in string quartet arrangement
Musicians: Quatuor Zaïde
Works: MOZART Die Zauberflöte (selections arr. for string quartet); String Quartet no.14 in G major K387
Catalogue Number: NoMadMusic NMM060
Before the advent of mass media, it was customary for an opera's greatest hits to be arranged for smaller, more portable ensembles. The payoff is that you lose the voices and the orchestral colouring; meanwhile the melodies are heard by more people, building the recognisability and thus the popularity of the opera. Transferring a 46-minute sequence of numbers from The Magic Flute to string quartet grants a particular clarity to inner lines; the irresistible fugal writing of the overture especially benefits.
The (anonymous) transcriber enjoys ornamenting and varying Papageno's numbers. A number such as 'O Isis und Osiris' is always going to suffer without a sonorous bass voice and a violin can never provide the same thrill as a soprano rising to the Queen of the Night's top F (and beyond). Gone, too, is the unique tinta offered by the opera's unique woodwind colouring, with clarinets and basset horns to the fore. There's another vital wind instrument missing, too – if only I could put my finger on it…
The first of the 'Haydn' quartets is, counter-intuitively, relegated to the role of 'filler'. At least here the string lines are Mozart's own rather than those of a hack arranger. So too are the dynamics and inflections, offering this full-scale work more tonal variety in performance than the opera excerpts. The playing is richer and more consistent, too, while the microphones provide analytical illumination within a reasonably generous acoustic.
DAVID THREASHER