Jan Vogler's Dresden Music Festival this year included Cellomania, a celebration of the cello, in which great artists of all generations shared the stage. Tim Homfray reports on a wealth of outstanding performances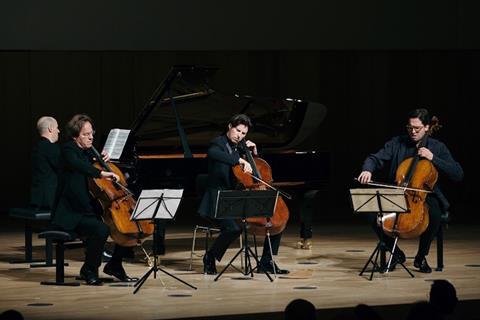 Getting around Dresden isn't as easy as it looks on the map. We arrived on the morning of 14 May, but barely got to the splendid neoRomanesque Martin Luther Church in time for the evening concert after a meandering stroll meandered rather more than we had in mind. Still, we made it, with Haydn's two cello concertos to come, and two cellists to play them. Yes, two. For this was the Cellomania festival (10–21 May), in which some of the world's finest cellists rubbed shoulders in mounting numbers. Here, Johannes Moser and Daniel Müller-Schott shared the bill (and the generous acoustic).
Moser was dramatic and exuberant in the outer movements of the C major Concerto, grinning ever more broadly and leaping to his feet on the last chord. In the central Andante he produced spine-tingling pianissimos. In the D major Concerto, Müller-Schott was mellow in the first movement and elegant in the second, before bursting forth into opera buffs jollity in the last. The Dresden Chamber Soloists under Helmut Branny provided sensitive support, and topped and tailed the concert with Mozart. The following night, Mischa Maisky appeared at the Kulturpalast in the city centre, an attractive, newly refurbished building of glass facades and open spaces.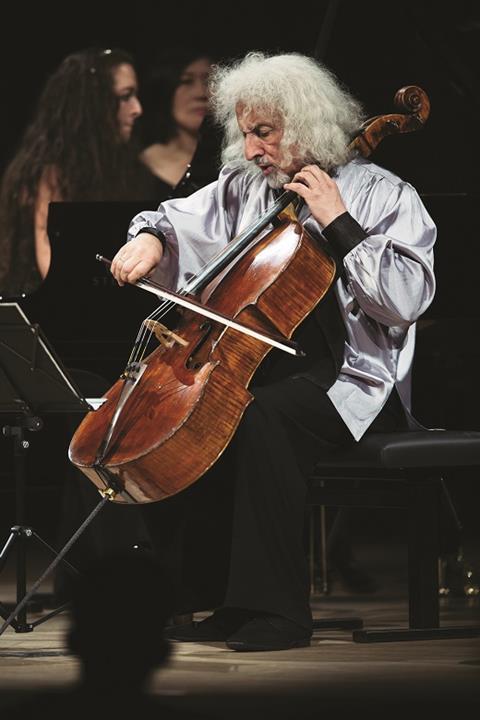 Maisky, to mark his 70th birthday, was the only cellist to get a concert of his own, which he shared with his violinist son Sascha and pianist daughter Lily. They opened with Rachmaninoff's Trio élégiaque no.1 and closed with Shostakovich's Trio no.2 in E minor, in supple and colourful performances whose unanimity of phrasing one is tempted to attribute to family telepathy. The Shostakovich reached heights of fierce jubilation in the first two movements and was terrifying in the last. In between, father and daughter gave a forceful account of Shostakovich's Cello Sonata, the first movement vivid, the scherzo muscular and the Largo a glorious elegy.
Two days later the festival continued in the third of its venues, the Palais I'm Grossen Garten, for which we needed to catch a tram. Thankfully, we were becoming au fait with the trams. They're the easiest way to get around, but as one of the main city bridges, the Augustusbrücke (as painted by Canaletto), was having a refit they took some interesting diversions. More than once we found ourselves in parts of Dresden the tourist never sees. The Palais is a splendid 17th-century Baroque building, now in a state of attractive distress. The concert was on the first floor, with windows overlooking the park on all sides, scalloped niches, and the remains of four Corinthian columns in red, veined marble in front of the platform. The acoustic is excellent – clear and warm.
Tonight there were the Bach Suites, and, this being Cellomania, there were six cellists to perform them. First was Christian Poltéra, his playing flowing and rhythmically incisive, with brisk tempos and sparing use of rubato. Christian Pierre La Marca followed, also fleet of foot, with a light touch in rapid filigree passages and sparing use of vibrato. Harriet Krijgh gave a joyful performance of the Third Suite, with robust phrasing, dynamic contrasts and gusto in the Gigue. During the Allemande a blue and white hot-air balloon could be seen ascending outside the window behind her. Alban Gerhardt danced earthily and energetically through the Fourth Suite, with some wonderfully fruity playing on the C string. Alisa Weilerstein was less convincing in the Fifth, with disjointed phrasing and exaggerated dotted rhythms. Finally, Pieter Wispelwey came on for the Sixth Suite with his five-string spineless Baroque cello, and a Baroque bow. He was vigorous and flamboyant, with fluent, pliant phrasing. We never did see the balloon land.
What could follow complete Bach? Complete Beethoven of course, which duly came the following night. In the First Sonata, Lynn Harrell was disarming and genial, with Beethoven's moments of drama and rhythmic wrong-footing caught with energy and humour. Andreas Brantelid played the Second Sonata with easy flowing expression, particularly in the first movement, and with scrupulous regard for dynamics throughout.
There was tremendous panache in Kian Soltani's performance of the Third Sonata, in which he relished the rhythmic snap of the scherzo and its changes of gear. Weilerstein was terrific in the Fourth Sonata, with passionate, full-blooded playing, vigorous bowing and a generous tone. Finally, Miklós Perényi played the Fifth Sonata with the unchallenged authority of a master, and in artistic empathy with the pianist, his son Benjamin, who shared the evening's pianistic duties with Christian Ihle Hadland.
So far there had been 13 cellists, only one of whom, Weilerstein, had appeared twice. Some would appear again in the grand final event; others, like Harrell and Wispelwey, had flown in for 15 minutes and then flown away again. It seems like an impossible project, and yet it happened. The idea first came about during the cello section of the 2015 International Tchaikovsky Competition, for which the cellist Jan Vogler was a juror. As Vogler also runs the Dresden Music Festival, of which Cellomania became a part, impossibility was not an issue. He shared the idea with his fellow jurors, who included Harrell and Maisky. It would be, he suggested, 'a meeting of all generations of great cellists. The concept was to share concerts and show the variety of playing styles. Most players loved the idea and were very happy to share the stage with wonderful colleagues.'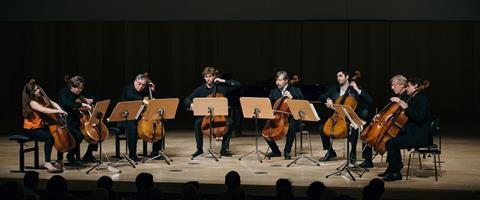 Finally, there was the Long Night of the Cello. It happened back at the Kulturpalast, and was indeed long at more than four and a half hours. There were 17 cellists, several of whom had turned up just for the evening, among them Ralph Kirshbaum and Frans Helmerson. Each of its three sections began and ended with an ensemble. At the outset there was Julius Klengel's Hymnus, and the sound of twelve world-class cellos in expressive romantic mode. Elsewhere there were two movements from Villa-Lobos's Bachianas Brasileiras no.1, played with warmth and high spirits. Soltani, Narek Hakhnazaryan and Pablo Ferrández gave a riotous performance of Giovanni Sollima's Terra danza complete with drumming. Vogler, Müller-Schott and Poltéra, with pianist Julien Quentin, gave a heartfelt account of Popper's Requiem op.66 in memory of Heinrich Schiff. They all had a solo spot, in which some demonstrated the arts of melodic beauty and others had a ball, with virtuosity and comedy. At the end they joined together for a Russian folk song, in a jolly, quirky arrangement which ended with them all singing the tune. It was quite an evening, at the end of a festival which was surely unique.
The cellists at the Long Night of the Cello were: Andreas Brantelid, Pablo Ferrández, Alban Gerhardt, David Geringas, Narek Hakhnazaryan, Frans Helmerson, Ralph Kirshbaum, Harriet Krijgh, Christian-Pierre La Marca, Mischa Maisky, Ivan Monighetti, Daniel Müller-Schott, Miklós Perényi, Christian Poltéra, Kian Soltani, Jan Vogler and Alisa Weilerstein.
ALL PHOTOS: OLIVER KILLIG