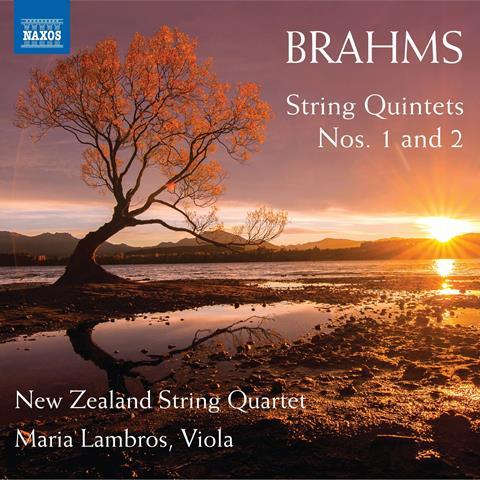 The Strad Issue: May 2019
Description: Young quartet brings a youthful spring to autumnal Brahms
Musicians: New Zealand Quartet, Maria Lambros (viola)
Works: BRAHMS String quintets: no.1 in F major op.88, no.2 in G major op.111
Catalogue Number: NAXOS 8.573455
The two string quintets were Brahms's last compositions exclusively for multiple string ensemble. He was particularly fond of the alto register and it is therefore hardly surprising to find him using the familiar classical layout of two violins, two violas and cello.
Brahms had originally intended the Second Quintet as his chamber swansong, declaring: 'I have worked enough; now let the young fellows take over.' That was until clarinettist Richard Mühlfeld inspired a rush of indelible late works, including the Clarinet Trio and Quintet.
Notoriously difficult to balance internally, the string quintets can easily become texturally muddied, a pitfall that the New Zealand Quartet and violist Maria Lambros avoid by clarifying the viola lines (especially), enhanced by engineering that captures the ensemble with striking immediacy against a warm church acoustic.
They also bring a youthful spontaneity to Brahms's autumnal invention, sending the opening movement of op.111 soaring aloft with a freshness that reminds us he was only 57 at the time, rather than the portly old gentleman suggested by several rival performances.
Intonation is not always squeaky clean and the finale of op.111 could have had a shade more 'energico' about it, but this is still a highly accomplished release.
JULIAN HAYLOCK