Fascinating recordings of rarely heard virtuoso gems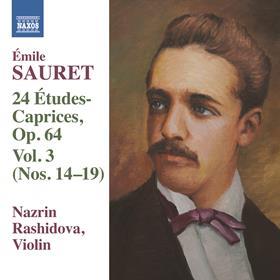 The Strad Issue: October 2019
Description: Fascinating recordings of rarely heard virtuoso gems
Musicians: Nazrin Rashidova (violin)
Works: SAURET Etudes-Caprices op.64 nos.14–19
Catalogue Number: NAXOS 8.573975
I first encountered Émile Sauret (1852–1920) via his cadenza for Paganini's D major Concerto. Nazrin Rashidova is working through his 24 Etudes-Caprices and here, as on the earlier Volume 2, uses Sauret's own c.1685 Strad. The pieces are substantial and although the virtuosity level is high – Rashidova plays superbly – there is poetry amid the note-spinning, as in nos.16 and 18. Only no.19 in A major becomes tiresome, after a beguiling high-lying opening.
Even when the music is attractive, as at the start of no.14 in E flat minor, tricky intervals test intonation. Whole passages are in double-stops – in no.17 in E major, the two lines have different expressive markings; no.15 in B major has an eerie tremolo section; no.16 in G sharp minor has staccato. Often Sauret seems to be exploring, improvising, experimenting with bowings: the fiendish Allegro of no. 17 features the saccade stroke that Rashidova has demonstrated on video (bit.ly/2TQpMs7). She tried several bows including a cello bow to get the desired effect.
No.18 begins operatically on the G string: its Allegro con fuoco is jagged and fierce with harmonics. I wonder what dedicatee Marjorie Hayward made of this music. I have not heard of concert performances or previous recordings.
TULLY POTTER